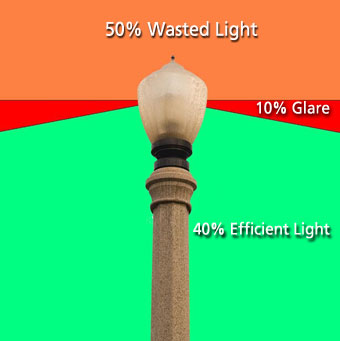 Tyler Nordgren, University of Redlands
Many lights are arranged in a way that wastes up to 60% of their emitted light. About 50% of emitted light shines directly in to the atmosphere and scatters off molecules and aerosols, a large percentage bouncing back down to Earth, creating the dome of light over cities called
skyglow
. We can see these domes from many miles away and they have a profoundly negative effect on our view of the cosmos. The remaining 10% of that wasted light shines directly in to our line of sight producing
glare
which destroys our ability to see safely at night.
Not only does light pollution dissolve our cultural connections and hinder our scientific explorations of the night sky, it also has
a negative impact on wildlife
. Many nocturnal animals that rely on the natural darkness of the night to hunt or to navigate become confused from the obtrusive skyglow of artificial light. Their instinctive pursuit of this false light leads them on an unnatural course which often leads to death.
Light pollution also takes a toll on our finite resources. It is estimated that up to 30% of our total outdoor lighting in the United States is completely wasted in to the atmosphere. This means that 30% of the resources we use to create that electricity is completely wasted. This is translatable to about
1.7 billion dollars a year
in resources that are wasted creating skyglow and light pollution.
We have seen a dramatic increase in light pollution over the last few decades. Many people have literally watched the Milky Way disappear over their homes as growing domes of unwanted light trespass over the sky like persistent, incoming tides. Thankfully, unlike many other forms of irreparable pollution, light pollution is 100% fixable. It cleans up at literally the speed of light!