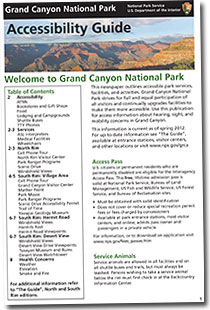 A digital copy of the Grand Canyon National Park Accessibility Guide Newspaper may be downloaded below:

Accessibility Guide (updated 2012)
for printing on standard letter-sized paper (1.2 MB PDF file)

Accessibility Guide (updated 2012)
Large Type Version for printing on 11 x 17" paper (5 MB PDF file)
To read updated acessibility information - as it becomes available - download the current version of the Grand Canyon Guide Newspaper from our Newspapers Page.

If you have any accessibility questions about Desert View, or elsewhere in the park, you may email us here.

Upon your arrival at the park, a paper copy of the Accessibility Guide is available upon request at the Grand Canyon Visitor Center, Yavapai Museum of Geology, Kolb Studio, Verkamps Visitor Center, Tusayan Museum, Desert View Visitor Center, or North Rim Visitor Center.

Several of the daily Interpretive Ranger Programs are wheelchair accessible. Inquire at visitor centers or look in the "Grand Canyon Guide" newspaper for specifics.