Backcountry Hiking Audiocasts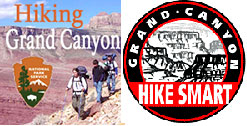 Planning to hike this week? Read our
Critical Backcountry Updates
Includes Current Trail Closures and Restrictions

Listen to our most recent audiocasts below:
or download them through the links provided.

Our podcasts are also available as free downloads from iTunes Hiking Grand Canyon Channel
Backcountry Information Center & How to Obtain a Permit

All you need to know about Grand Canyon's Backcountry Information Center and how to obtain a backcountry permit.

Duration:

7 minutes, 10 seconds

Credit / Author:

Andrea Tavegia

Date created:

2013-06-12
Grand Canyon Hiking: How to Beat the Heat

Some tips for hiking in the extreme heat of the inner canyon; tips that can mean the difference between an enjoyable hike and a potentially fatal one.

Duration:

10 minutes, 23 seconds

Credit / Author:

Andrea Tavegia

Date created:

2013-07-16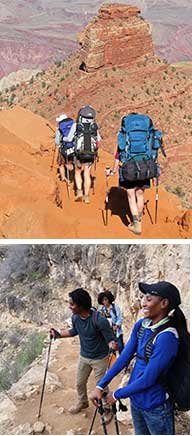 NPS photo by Daniel Calloway
Hiking in the Grand Canyon is so demanding that even people in excellent condition often emerge sore and fatigued. Yet small children, senior citizens, and people with physical disabilities have successfully hiked the canyon.


A hike into the Grand Canyon will test your physical and mental endurance. Know and respect your limitations. Moderation is the key to an enjoyable hike. If you wish to camp anywhere in the park, other than in developed campgrounds on the North Rim, South Rim, or Tuweep, you must obtain a permit from the Backcountry Information Center. Backcountry travelers must have their permit in their possession while in the backcountry. Once a camp is established, the permit must be attached to a pack, tent, or other equipment in plain view so it can be easily checked by rangers.


Permits are valid only for the trip leader, itinerary, number of people, and dates specified on the permit. Permits for all overnight backcountry use must be obtained through the Backcountry Information Center at Grand Canyon National Park. For more information, please visit:
http://www.nps.gov/grca/planyourvisit/backcountry-permit.htm


---
Average temperatures, weather information and road conditions can be found on the Weather Conditions page.
Backcountry Status Updates (listed by date posted):