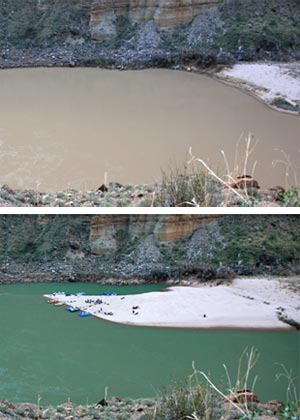 U.S. Geological Survey
On November 10-15, 2014 the Department of Interior will begin increasing the release from Glen Canyon Dam for a high-flow experimental release (HFE) of approximately
37,500 cubic feet per second (cfs) for 4 days. (96 hours
)
The goal of the high-flow experiment is to move sand stored in the river channel and redeposit it to rebuild eroded sandbars and beaches downstream of the Paria River in Grand Canyon National Park.
This release follows the science-based
Protocol for High-Flow Experimental Releases
from Glen Canyon Dam established in May 2012 and is a component of the Department's compliance with the Grand Canyon Protection Act of 1992.
The Grand Canyon Protection Act mandates that Glen Canyon Dam be operated in a manner that protects, mitigates adverse impacts to, and improves the values for which Grand Canyon National Park and Glen Canyon National Recreation were established.
Previous experimental releases from Glen Canyon Dam have demonstrated that it is possible to rebuild beaches and sandbars in Grand Canyon via high flows.