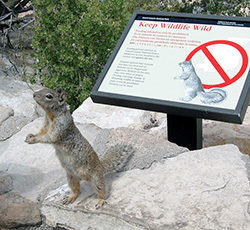 For Your Safety and Theirs
To many people, the opportunity to view the wildlife in Grand Canyon National Park is as amazing as the spectacular views.

Mule deer and elk may be commonly seen in the South Rim Village, endangered California condors soar majestically above the canyon, and other wildlife including ravens, lizards, and rock squirrels are common along the rim.

Visitors to Grand Canyon may also have the opportunity to glimpse bighorn sheep, coyotes, ringtails and other species. Mountain lions, bobcats, badgers and rattlesnakes are less commonly seen, but are present in the park.
All wildlife in Grand Canyon National Park is protected by federal law. Most people know that hunting and trapping are not allowed in national parks, yet many people may not realize that approaching or feeding animals is also prohibited. These actions are against park regulations because they are harmful to animals. When you approach too closely to wildlife, you may cause them stress and interfere with behaviors necessary for their survival.
Keep your distance. Stay six car lengths or 100 feet (30 m) away from deer and elk.
Animals that are fed by people become dependent on human food, and may lose their natural fear of humans and their ability to forage for natural foods. There is a lot of truth to the saying, "a fed animal is a dead animal." In addition to losing their foraging ability, animals that have been fed are less likely to survive other reasons. Animals that have been fed from cars congregate near roadways and are at a high risk of being killed by vehicle collisions.
In recent years, the National Park Service has had to euthanize deer, coyotes, rock squirrels and other animals at Grand Canyon that had become overly aggressive towards humans and/or had become completely dependant on food handouts. Park rangers work to preserve and protect park resources, including wildlife. NPS staff find it heartbreaking when they are forced to euthanize animals whose aggressive behaviors were caused by being fed by well-meaning people.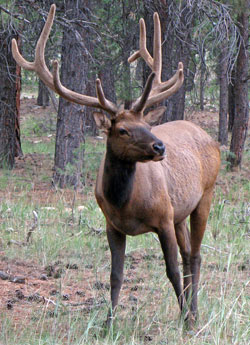 Feeding animals puts everyone in potentially hazardous situations. People who feed animals may be bitten or otherwise injured by the animal they are feeding. Other visitors are at risk as they may be harmed by aggressive animals that have previously been fed.

Seemingly tame animals are still wild, and may behave unpredictably. Animals may use their teeth, claws, hooves, antlers, or horns to defend themselves. View wildlife from a safe distance. Leave animals enough room to make an escape if they feel threatened. You are too close to an animal if your presence causes them to move.
Many visitors to Grand Canyon may think that species such as rattlesnakes and mountain lions pose the greatest risks to people. In fact, people are much more likely to be injured by rock squirrels, or by deer or elk. During the summer, rock squirrels commonly bite visitors who are feeding them, or who are just holding their finger out towards them. Park rangers regularly tell visitors that squirrels are the most dangerous animal in the park because squirrel bites are so frequent.

There are other serious hazards associated with wildlife. Numerous species, including rodents, squirrels, coyotes, fox, bats, and mountain lions, may carry infectious diseases such as Hantavirus, rabies, or plague. In some situations, these diseases may be transmitted through simple contact, such as touching or feeding wildlife. In recent years, Hantavirus, rabies and plague all have been documented in the park's wildlife populations.
Grand Canyon National Park is a sanctuary and home for wildlife. By treating wildlife with respect and not approaching or feeding them, you are aiding their chance for survival. By keeping wildlife wild, you are protecting their safety-and yours.
---