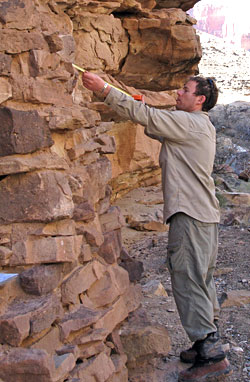 The National Park Service has monitored archeological sites along the Colorado River corridor since the early 1970s, and more intensely following the 1990 comprehensive survey of archeological sites exposed at the surface in the river corridor.
Since the implementation of the Colorado River Management Plan (CRMP) in 2006, many of the 600 sites in the CRMP project area have been visited by park archeologists during the integrated resource monitoring trips.
The purpose of the "archeology blitz" monitoring trip in February was to allow crews to focus on archeological site assessments and to complete some more intensive projects than CRMP monitoring protocols allow. For example, crews were able to examine a number of archeological sites in side canyons that may have an increase in recreational use during the winter months with more winter launches under the CRMP.