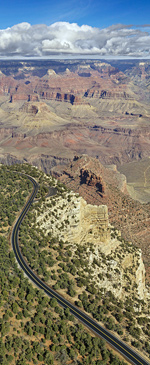 Ron Chapple Photo
The objectives of the Grand Canyon mountain lion study include determining mountain lion predation rates and prey composition, habitat use, population structure, and movement relative to areas of human infrastructure, such as roads and the Grand Canyon village.
Grand Canyon National Park wildlife/human interactions biologist Brandon Holton said, "The GPS data permits us to learn aspects about lion behavior that we wouldn't otherwise be able to study. This data helps us discern each lion's home range, movement patterns, and habitat use, and investigate kill sites to learn about lions' prey. This allows us to better understand the mountain lion's role as the top predator on the southern Colorado Plateau."
The Grand Canyon National Park mountain lion research program has recently partnered with the U.S. Geological Survey's lion research program in the Flagstaff area and with other national parks on the Colorado Plateau including Zion and Capitol Reef National Parks to gain a broader understanding of lion ecology on the southern Colorado Plateau.
Holton explained, "A total of 45 lions have been collared in the four study areas. This larger data set allows wildlife biologists and park managers to have a broader understanding of lions across the region and to see how lions utilize habitat adjacent to human infrastructure in these different areas.