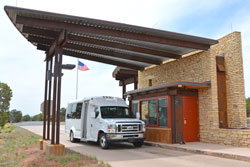 Additional Forms for Commercial Users
Entrance Station Form:
Commercial Tour Passenger Certification Form
In addition to the CUA, commercial operators must submit a Commercial Tour Passenger Certification Form upon entry to the park. This is NOT the permit, however, it is required upon entering the park, and at the time the entrance fee is paid.

This form is signed by the driver or guide, who verifies that the entrance fee being paid is the correct fee for the vehicle size and number of seats or passengers on board. Failure to have this form completely filled out upon arrival at the Entrance Station could delay your access into the park.
Please print out the form, fill in all the blanks that will remain static, and reproduce the form as many times as necessary for your planned trips to the park. Do not return this form with your application.
Commercial Tour Passenger Certification Form (20kb PDF File - Updated March, 2013)