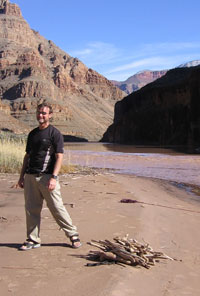 If you choose to have a fire at your river camp in the Grand Canyon, please do so responsibly.
The collection of driftwood for fires is only allowed from November 1 through February 28, and driftwood is the only wood that may be gathered and burned in the Grand Canyon. Driftwood should only be collected close to the water in areas where the river is still actively depositing it. Wood found far from the water's edge may be historic or from past flood events, and should not be collected. Driftwood is found near the strand line at the water's edge and has been obviously worked by the river. So, please stay close to the water when collecting.
In many parts of the country, the collection of dead and down wood is encouraged. This is prohibited in the Grand Canyon. This wood is important for the stabilization of fragile sand dunes and the ecological survival of the area. At popular camps, dead and down wood is often used to rehabilitate impacted areas; so it may be protecting sensitive resources. Never collect dead and down wood and don't tear down or cut living trees, even if they are non-native.