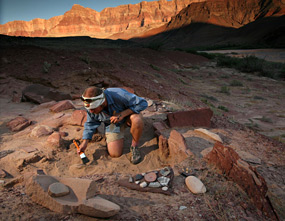 Photo courtesy of Dawn Kish
National Park Service archeologists discovered the pot in a large ancestral Puebloan site along the banks of the river. As the archeologists dug carefully through the rooms, the artifacts they uncovered provided clues to the people's daily lives. The rooms held stone lined hearths for cooking fires, storage pits in the floor, and mealing bins where people once ground corn for their dinner.
Other objects found at the site indicate that the canyon was not a barrier but a home that the people traveled through, gathering resources from different areas. The inhabitants grew corn nearby, but piñon nuts, juniper berries, and rabbit bones demonstrate that people along the river used resources from higher in the canyon and on the rims. The source of a bison femur is still a mystery! Varied potsherds, of different origin, show that pottery was traded back and forth across the canyon as well as made locally.