Selected Artists - South Rim - 2011 - 2012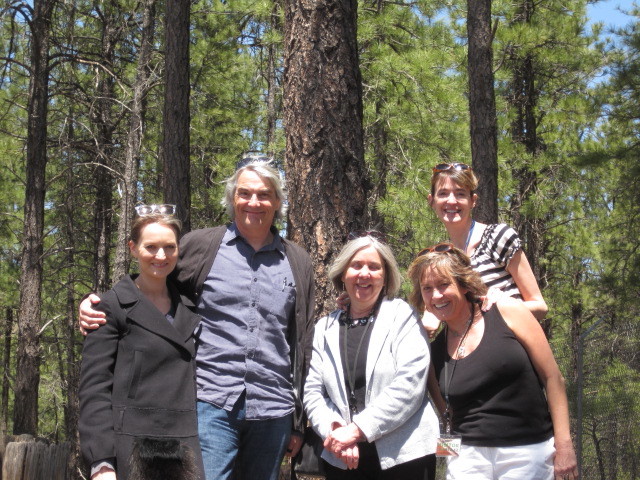 Meet the Jurors!
- Dorotka Sapinska, Los Angeles,California; production designer, costume designer, illustrator
- Joe Ansolabehere, Los Angeles, California; screen writer, novelist
- Beth Seely, Tusayan, Arizona; art historian, free-lance curator, non-profit specialist, arts adminisrator
- Laura Kelly, Flagstaff, Arizona; writer, art administrator, Flagstaff Symphony Orchestra executive director, partnership development specialist
- Kim Buchheit, Grand Canyon, Arizona; graphic designer, studio artist, arts administrator/curator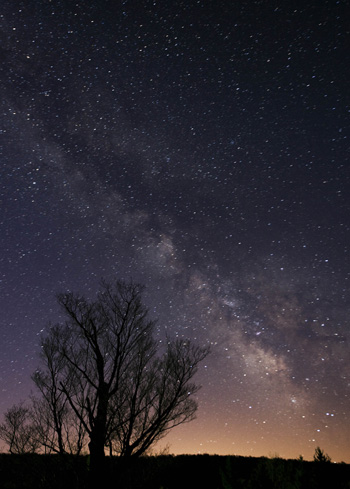 Night Sky Photography by Stan Honda
Night Sky Photographer Stan Honda is in-residence by special invitation, October 15 - 23, 2011
Stan studied psychology at University of California, San Diego and now lives in New York City. He is a staff photographer for Agence France-Presse, the French news agency; his major assignments have included covering post-earthquake Haiti, the US Space Shuttle program (2006 - final launching and landing in July of 2011) and Hurricanes Katrina and Rita. Stan was an embedded photojournalist in Iraq in 2003 and 2004. He witnessed and documented the September 11th attack on the World Trade Center and recovery efforts, as well as covering post 9/11 memorials. His work has been widely published nationally and internationally including LIFE: A Year in Pictures (1997), A Nation Challenged: A Visual History of 9/11 and its Aftermath (New York Times) and Caring: Physicians of the World (World Medical Association, France). Stan is also a frequent featured lecturer, including photography/artist talks at the Japanese American National Museum (2010), Cornell University (2007), Smithsonian National Museum of American History with the Japanese American National Museum (Washington DC), and is a return presenter at Asian American Journalists Association National Convention and College Media Association convention.
Stan: "As a Boy Scout, I spent a week with my troop hiking into and out of the Grand Canyon on a trip I will never forget. The amazing view of the canyon as we descended toward the Colorado River remains a permanent memory as do the starry skies we slept under. I have seen dark skies before, but I had never seen anything with the power to inspire me that compared to the night sky over the Grand Canyon. In the past few years I have been photographing celestial events and the night sky, largely for my personal satisfaction. At the Grand Canyon a visitor can see over a thousand stars and the Milky Way, our galaxy. There are so many stars it can be difficult to pick out the familiar constellations. The Andromeda Galaxy, 2 million light-years away can be seen with the naked eye. This opportunity at the Grand Canyon is going to allow me to immerse myself in night sky photography, improving my art and my craft without the constraint of daily deadlines. Like the diminishing wilderness the canyon represents, the night sky is also a resource that is slowly disappearing. The scenic vista that visitors see above them is as important as the views they see into the canyon - earth and sky".
While in-residence, Stan will present one evening program, October 21st, 7:00 p.m. at Shrine of the Ages. In this program Stan will share a variety of past work as well as his on-going night sky photography projects.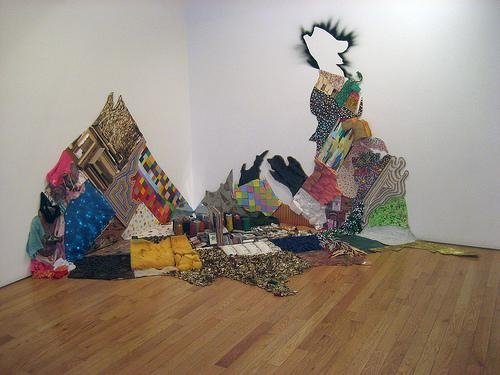 Installation by Michael Yinger; All I Know Is I Don't Know Nothin; mixed-media found-object map of the US, 2007
Sculptor Michael Yinger is in-residence October 29th - November 19th 2011
Michael grew-up in Bloomington Indiana, and received his BFA in painting from the Herron School of Art and Design in Indianapolis Indiana, and his MFA in combined media from Hunter College in New York City. His work has been widely exhibited in both solo and group shows, including Envoy Gallery (New York City), Galerie Griesmar-Tamer (Paris), Green Gallery (Brooklyn, NY), and Mary Ryan Gallery and The Keith Haring House (New York). He designed a window installation piece for Macy's Herald Square 34th Street window: Art Under Glass, Crossing the line project, and has been collected by the Institute of Contemporary Art in Boston. Michael's work is often site-specific and addresses issues of social justice and environmental concerns, juxtaposed with his experience as an urban dweller. He uses both found and fabricated non-traditional elements in his work, combining them into evocative narrative pieces that comment on specific contemporary issues. His work is often installed on both the walls and floors of galleries, and he uses materials that carry their own narrative weight - things he's found and collected while walking around the city. Varied materials such as plastic garbage, cigarette butts, discarded clothing, bullet casings and other alarming and disturbing urban detritus that can be found on the sidewalks of any city in the world often find their way into his work.
Michael: "My creative process starts with filtering ideas into a found object. In the process of creating work while at the Canyon I will utilize my surroundings as the means of artistic motivation. The objects I find in the environment will inform and become the inspiration for the artwork that comes from this residency. My exploration of the Canyon will become an abstracted reflection of my own experience while at the Park. My stay will influence and contribute to my future works of art. While at the Park I will be collecting found and discarded objects to use as material. The objects themselves will then influence or become the artwork. The trash left behind from the visitors will be a large part of my work. The waste and impact people put upon these amazing places is in itself amazing; my hope is that this work will help people both learn contemporary processes of making art and remind them of the fragility of our public lands."
While in-residence, Michael will conduct an art hike in which visitors will explore the impact that people have on the natural landscape, and shows how he works with materials found in the environment. Michael will also lead a three-day workshop with local high school art students, helping them to create their own found-object, site-specific outside sculptures.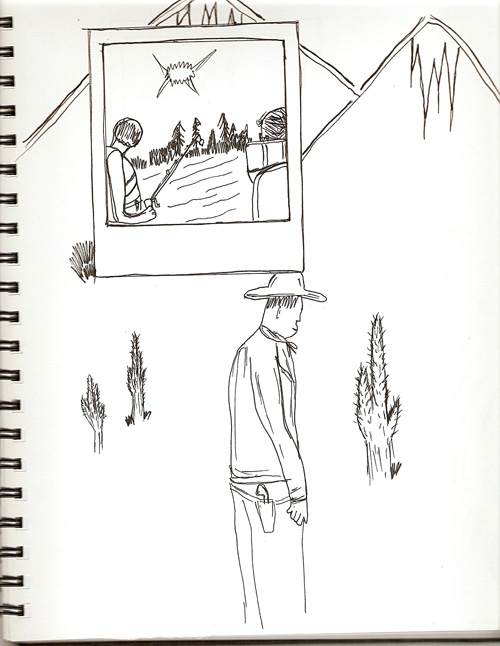 John Wayne in Dreams; sketchbook drawing by Lares Feliciano
The December Artist-in-residence is Oakland California filmmaker, animator and screen writer Lares Feliciano.
Lares has a BA from Smith College in film and American studies, and just received her MFA from San Francisco State University in cinema production. Her film making is a form of activism, and focuses on the Western genre and its complex history in American Cinema. Her work often focuses on the untold stories of communities who are not in the mainstream, placing them into an Old West context, allowing her characters to fully explore both that genre and their own place as outsiders in American mythology. Her most recent cinematic projects include a piece titled LAND - a feature narrative that takes place in the western landscape of the post-apocalyptic future; and EL GRITO DE LARES - an animation that tells the story of the Puerto Rican revolution after which she is named.
Lares' films and animations have been screened at the Toronto LGBT Film Festival in Toronto (2011), at the San Francisco International LGBT Film Festival (2010) and the San Francisco Women's Film Festival, to name a few. Her drawings have graced the cover of La Puente Newsletter (2007 and 2008), as well as the Labrys Literary Magazine (2007). She's an accomplished educator, teaching at both the University level (San Francisco, CA) and as an AmeriCorps Volunteer (Alamosa, CO). Her work earned her the MFA Fotokem Award at San Francisco State University in 2009, which allowed her to pursue her post-production MFA projects.
Lares: "Throughout my life I have been inspired by the complex natural landscapes of the world around me. The Grand Canyon is the epitome of that inspiration. A landscape as vast, complex and diverse as the Grand Canyon speaks volumes to me both emotionally and creatively. At this point in my creative development I find it hard to identify with one medium. I am a writer, a photographer, an animator, and a filmmaker; I make books, collages, press flowers and paint. There is no doubt in that the Grand Canyon will move me to create in a multitude of ways. I am excited to use my time at the Grand Canyon to dive into the completion of my screenplay LAND, under the influence of the most influential of western landscapes. I am fascinated with the fierce drive of the frontier myth and the western hero in framing American identity. My screenplay focuses on this perspective through non-traditional western characters; my commitment to social justice and my passion for the western genre will make for a truly unique film. This time will allow me to keep to my timeline goal of being in full film production in the summer of 2015."
While in-residence, Lares will work with students at our local public school on an animation project using time lapse and stop motion techniques.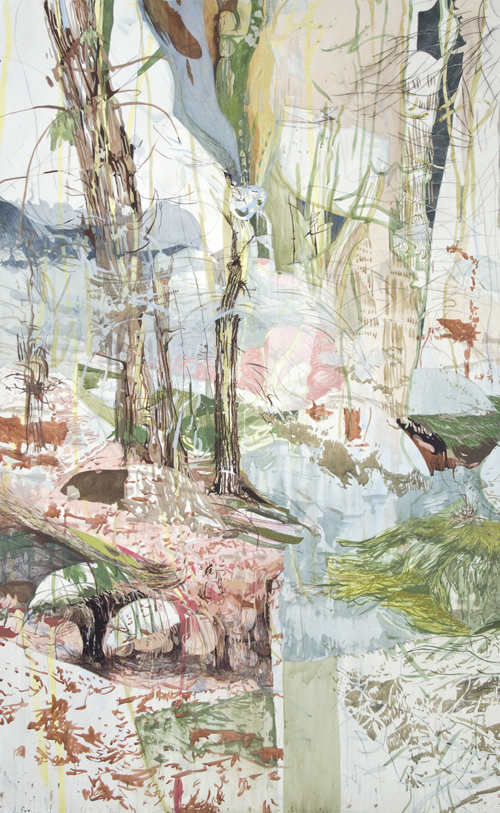 Michele Lauriat; Untitled: from the Phil's Hill series, mixed media on paper, 90"x55", 2011
Painter and mixed-media 2D artist Michele Lauriat is the January 2012 artist-in-residence.
Michele lives in Wakefield Massachusetts; the New England landscape is a central subject in her very large mixed media drawings and paintings. She works with a variety of water-soluble media, pencil and collage on paper, creating evocative and haunting images of the ancient dwarf trees, the scruffy winter hillsides and the lush undergrowth of the east coast.
Michele received her BFA from The School of the Museum of Fine Arts, through Tufts University in Boston, and just completed her MFA from the University of Massachusetts in Amherst. She is an award-winning artist whose work has been exhibited widely, including the U of M Student Gallery and The Herter Gallery (Amherst, MA), UMass/RISD exchange exhibit at the Benson Hall Gallery in Providence, RI, Arnot Art Museum (Elmira, NY), Gallery 214 in Montclair, NJ, and Gallery 808 at Boston University. Michele was an artist-in-residence at the Hall Farm Center for Arts and Education in Townshend, VT in 2002.
Michele: "My drawings are quite large. They tower over me as I work and often envelop me when I move them. Although they are landscapes, my images are not vistas, as I seldom experience a vista. My ideas about nature are much more dwarfing. When I was young my family went camping often. We had a VW camper, and I slept in the storage compartment that snapped to the ceiling of the van. Tiny and suspended, I fell asleep each night very aware of the massiveness outside. Our days were all about the details: fishing, swimming, foraging, and exploring. It is those moments, when the immensity and detail become inseparable that I seek in my drawings. I work from landscapes that I have a personal connection to, and a fractured understanding of. I am interested in the paradox of trying to observe these places in full detail, without reducing them. During my stay at the Grand Canyon, I intend to make drawings from inside the canyon and the basin floor. My intent is to give my drawings a submerged perspective, as I prefer a view of the land that makes me feel small. To me, images of land from above represent dominance over the earth, while images from within or below represent my experiences with nature more accurately, illustrating how difficult it would be to grasp the totality of nature. In short, this view keeps me humble"
While in-residence, Michele will conduct one public program on January 10th, from 12:15 - 1:00 - meet in front of the Verkamps Visitor Center fireplace.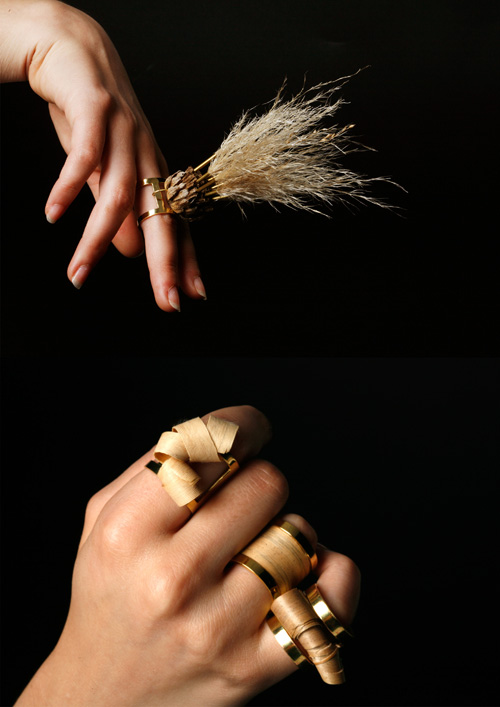 Mixed-media jewelry; brass, gold, grass, bark; Georgina Orme
British jewelry designer Georgina Orme is in-residence during February, 2012.
Georgie is a British national who divides her time between Bath and London. She holds a BA in Psychology & Communications Engineering from the University of Bath, and last year she graduated from Central Saint Martin's School of Art and Design with a second BA in Jewelry Design. Georgie's jewelry is beautiful, playful and experimental/conceptual jewelry that uses alternative materials such as reeds, ribbons, wild grasses and bark, as well as traditional metals, stones and ceramics. Since graduating she has been working as a commercial goldsmith, while developing her own work. She recently taught at the acclaimed I-Dent program for young people in London, in association with the Tate Britain, culminating with a student jewelry catwalk show in the Tate's Duveen Gallery. She is an award-winning artist and experienced arts educator. Her work has mostly recently been exhibited at the "Mint Explores" show as part of London Design Festival 2011.
Georgie: "I am rarely happier than when I am outdoors in incredible natural environments, and to be able to combine that with my work and create something special is going to be wonderful. My work most recently has been about the journeys of people and animals, focusing on both the purpose of the journeys and the marks on the earth left behind by the travelers. The landscape and environments of these journeys play an important role in my inspiration, and helps to sculpt the textures and forms of my pieces. While at the Grand Canyon I aim to use the incredible natural setting and the history of the area to influence my research and my ideas for a new Grand Canyon-inspired collection. I am particularly looking forward to exploring the park library to help me generate a strong concept for my work, as well as finding out about traditional jewelry making and metals techniques of the area, focusing on the jewelry design of the regional Native Americans."
While in-residence, Georgie will present a slide lecture about her work and contemporary jewelry, scheduled for February 14th, 12:15 - 1:00. Check with area Visitor Centers for location. She will also serve as the juror for the 9th Annual Student Art Exhibit, featuring artwork made by local children. In-studio Georgie will be doing research and model making for a collection of Grand Canyon-inspired jewelry; this series will continue post-residency, in her home studio.
For the month of March, the south rim AiR program is honored to host the inaugural season of a Master Artist series.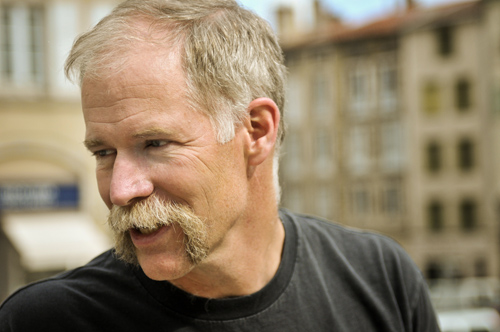 writer Pete Fromm
From March 12th - 18th, 2012, award-winning Montana author Pete Fromm will be Master Artist-in-Residence.
Originally from Shorewood, Wisconsin, Pete has a B.S. in wildlife biology from University of Montana, Missoula, where he graduated in 1981. Winner of the Pacific Northwest Booksellers Association Book Award, Indian Creek Chronicles is Pete Fromm's first book, describing seven winter months spent alone in a tent in Idaho guarding salmon eggs for the Forest Service. A gripping story of adventure and isolation, this contemporary classic established Pete as one of the West's premier voices. He is a four time winner of the Pacific Northwest Booksellers Literary Award for his novels As Cool As I Am and How All This Started, a story collection Dry Rain, and the Indian Creek Chronicles memoir. The film of As Cool As I Am, starring Claire Danes, James Marsden, and Sarah Bolger will be released in 2012. Pete is the author of four other short story collections and has published over two hundred stories in magazines. He is on the faculty of Oregon's Pacific University's Low-Residency MFA Program, and lives in Missoula, Montana with his wife and two sons.
Pete will present an evening program reading of his outdoor-inspired writing on Saturday, March 17th, Shrine of the Ages, 7:30 p.m. This is a free and all-ages special event.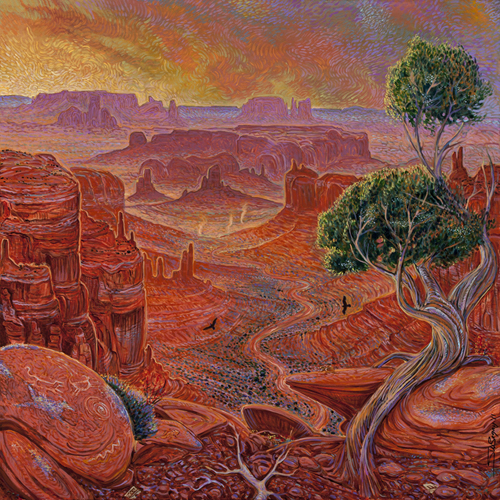 Monument Symphony; acrylic on canvas by Shonto Begay
Arizona painter Shonto Begay will be our Master Artist-in-Residence from March 19th - 31st, 2012.
Shonto was born on a Navajo reservation sheep camp to his mother, a traditional rug weaver of Tonalea storm patterns, and his father, a respected medicine man.
In addition to being a prolific painter, lecturer and author, Shonto is a spokesperson for environmental rights. He uses acrylic paint on canvas to convey memories and his concerns about the environment and encroaching development.
Shonto's impressionistic brushstrokes depict moments in time. From images of hogans to the government boarding school he was forced to attend, to paintings of hitchhikers and mesas that seem to go on forever, his art balances the harsh realities of reservation life with the amazing beauty found among its people, canyons and mesas.
A professional artist since 1983, Shonto spends his time painting and speaking to audiences of all ages. His art has been shown in more than 50 shows in galleries and museums including The Wheelwright Museum of American Indian in Santa Fe, New Mexico, the American Indian Contemporary Arts's Museum in San Francisco, California, and Phoenix Art Museum in Arizona.
Shonto will present his work in an evening program artist talk on Saturday, March 24th, 7:30 p.m., as the culminating program for the annual Archeology Month events at the Grand Canyon. Shrine of the Ages. This is a free and all-ages program.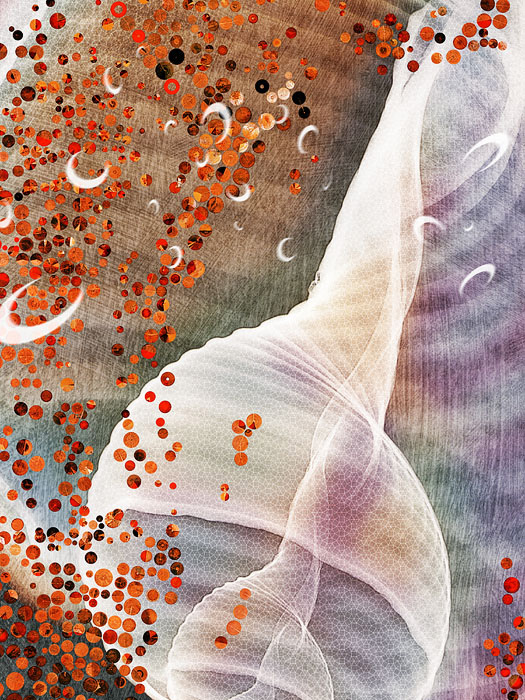 Randomness; digital photography
New media, digital photography, and designer Jing Zhou from Ocean New Jersey will be in-residence April 8th - 30th.
Jing teaches graphic design at Monmouth University, West Long Branch New Jersey. She received her BFA from Sichuan Fine Arts Institute in Chongqing, China, and her MFA from Georgia Southern University in Statesboro, Georgia; she also has a certificate in 3D Modeling & Animation from the Digital Media Academy at Stanford University, California. Her award-winning artwork is both influenced by her Chinese heritage and environmental activism. Her list of awards and honors includes winning the Gold Medal of the 45th Annual Art Directors Club of New Jersey (2008), the Fifth Prize of Empowering Women Poster Competition organized by the International Federation of University Women (Geneva, Switzerland 2010), the 2010 Switzer Distinguished Artist award (Pensacola, Florida), the Best of Show award in the 3rd Annual National Juried Art Exhibition at Chadron State College (Nebraska 2006), and the 15th Annual Communicator Awards International Competition (New York 2009). Jing has been in-residence at Gates of the Arctic National Park in Alaska (2009), Vermont Studio Center (2008), Everglades National Park in Florida (2006), and Weir Farm National Historic Site in Connecticut (2005). Her artwork is collected by individuals and institutions including WRO Media Art Center (Wroclaw, Poland), Museum of the Living Artist (San Diego, CA), Las Cruces Museum of Fine Art (New Mexico), and the Chinese Culture Center of San Francisco (CA). Jing's work is widely exhibited in more than 100 exhibitions and screenings nationwide and abroad.
Jing: "The beauty and mystery of nature are the origin and essence of my artistic creation. As a Chinese woman artist living in the Western world, my experience helps me understand cultural diversity and be aware of art and philosophy from both cultures. When we allow ourselves to return to nature, it helps us to realize and experience the humanity which we share. As an artist, designer and educator I believe that the Grand Canyon residency, where the finest natural beauty of this planet exists, will provide me the opportunity to explore and observe the local culture, history, and landscape. This experience will not only assist me in my current art projects, but also inspire me to future artistic achievements. While in-residence, I plan to continuously pursue my digital print series "Ch'an Mind, Zen Mind" inspired by nature and spirituality, as well as working on new projects exploring the regional cultures."
Jing's public programming will include an artist talk introducing her environmental work, an origami workshop, and an artist demo. Please check with area Visitors Centers for dates, times and locations of all programming.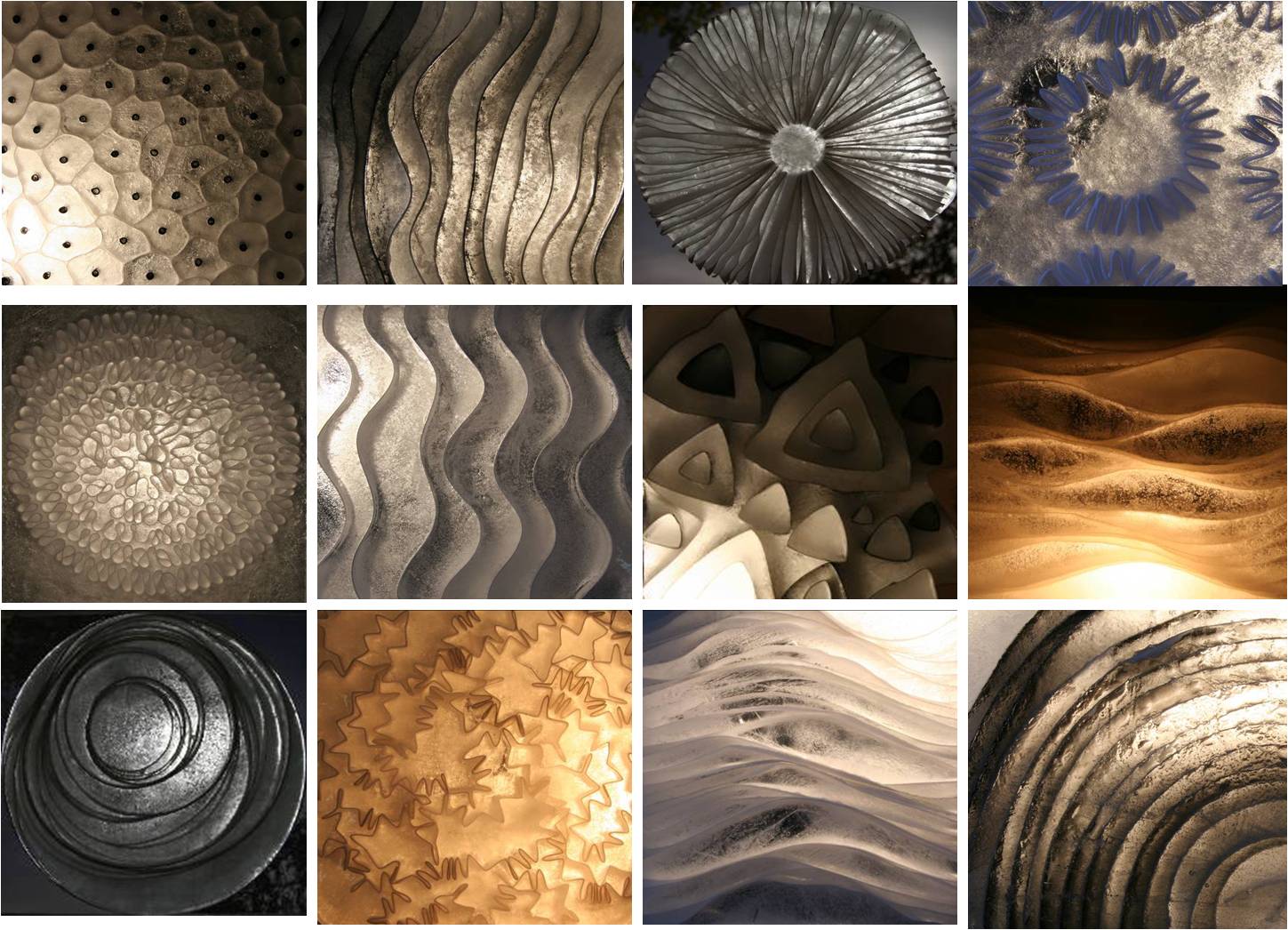 Deborah Bird; paper and ice sculptures
Paper and ice sculptor Deborah Bird is in-residence for the month of May.
Deborah is a British national who lives in Leicester, working as both a studio artist and as a professional art mentor for regional emerging artists. She received her BA in graphic design from the Bath Academy of Art, and a MA in Fine Art from De Montfort University in Leicester, England. She has been actively involved in creative education and many forms of applied art including Graphic Design and Fine Art throughout her career. Deborah's unique creative work is called 'Paper Scissors Ice' and uses features of the natural landscape to inspire pieces which are an amalgamation of ice and paper; these sculptures are then photographed out on location making use of ambient color bouncing around in the natural environment. She is a frequently exhibited artist, who primarily shows photographs of her mysterious and beautiful paper/ice sculptures. She has shown at the Leicester City Gallery (Leicester, UK), La Viande Gallery (Hoxton, London) and the Grantham Guildhall and Arts Centre, and was shortlisted in the Saatchi 2010 'Art of Giving' Competition. Her residency project has been partially underwritten by generous grants from Arts Council England courtesy of The National Lottery Fund, Deborah's visit to the Grand Canyon follows a successful solo show over the summer 2011 at the Atkins Gallery in Hinckley, UK. The exhibition included large scale photography and organic paper sculpture installations.
Deborah: "I was fortunate to visit the Grand Canyon twice during family holidays over the past 15 years, and remain overwhelmed by the scale and beauty of the landscape. This residency opportunity is going to enable me to realize a new body of work inspired specifically by the landscape, using my process of ice and paper sculpture. I am particularly drawn to the rock formations and the interplay of light, and see many parallels in my process that link directly to the Grand Canyon. The impact of time, erosion and external organic forces are vital factors in my work. I often use time lapse photography to document sculptures as they shift from a frozen state, through melt, to ultimate collapse. Light brings the sculptural qualities of the landscape to life, and is an essential to the birth of my finished work. I intend to use moonlight in my photographic work while at the Grand Canyon."
While in-residence, Deborah will do an informal artist talk about her wholly unique art methods and materials, a hands-on workshop for park visitors, and work with local students at the Grand Canyon school, who will have the opportunity to try their hand at creating paper and ice sculptures. Her finished Grand Canyon pieces will be exhibited at Atkins Gallery in Leicestershire, UK, November 23rd 2012 - January 2013 in a new solo show called 'Paper Scissors Ice - Grand Canyon 2012'.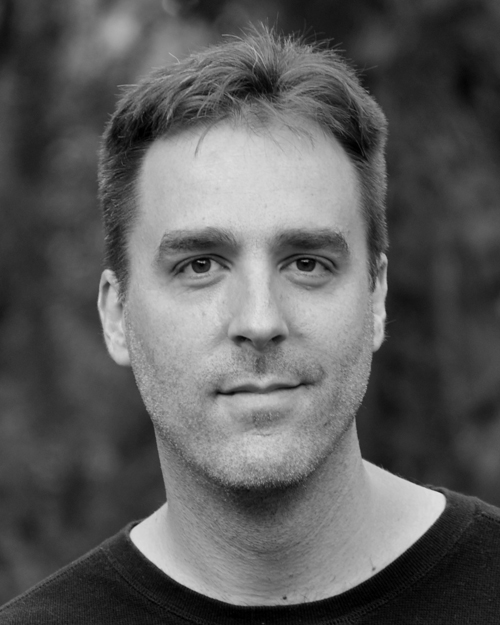 Composer James Romig
Composer James Romig is in-residence June 1 - 21st, 2012.
James is an Associate Professor of Music Theory and Composition at Western Illinois University, in Macomb, IL. He received his BM and MM at the University of Iowa (Iowa City) and has his PhD from Rutgers University (New Brunswick, New Jersey). His work is influenced by a strong interest in the complexity of nature (as experienced through the activities of hiking and photography) and how these complexities may be applied to musical composition. James studied with Charles Wuorinen at Rutgers University, and additionally with Milton Babbitt (long-time professor at Princeton University), who served on his Ph.D. dissertation committee. Recent guest-composer visits include Northwestern University, the Aspen Institute, the Cincinnati Conservatory, the University of Illinois, Juilliard, and the American Academy in Rome. James was in-residence at Petrified Forest National Park (2009) and Copland House (2011) and has participated in many festivals including June in Buffalo, the Imagine Festival, Wien Modern, and regional/national conferences of the Society of Composers, Inc. His university performance venues read like an alphabetized list of the United States; James has worked from coast to coast and internationally throughout his career, working with individual instrumentalists, chamber groups, and large ensembles.
James: "When confronted with modern music for the first time, some listeners describe it as difficult to follow, mind-bendingly complex, too dense to comprehend in one sitting, or overwhelmingly diverse. Some listeners might say that it is difficult to understand the music because it is difficult to imagine how it is created in the first place. What I wish to point out is that these phrases could just as easily be used to describe a national park! I feel that contemporary art music is far closer in structure and complexity to nature than any of the music that came before it. Most of us, especially those of us who love spending time in national parks, have reached an understanding that nature is seldom comprehended immediately, and that it is almost always necessary to devote personal time and energy into revealing the rich rewards that nature has to offer. We further understand that the vast complexity of the natural world allows each of us to have a unique aesthetic experience, and that nobody sees a national park the same way twice, or the same way as someone else. The same things are true of complex contemporary music such as my own, and what we know about appreciating nature can be applied to appreciating new musical compositions".
While in-residence, James will present informal artist talks about his music and how nature influences the work. In-studio, he'll be working on a large-scale work for solo piano, which will ultimately be performed in concert by his pianist wife, Ashlee Mack, for whom he has previously written two Piano Sonatas (2004 and 2007).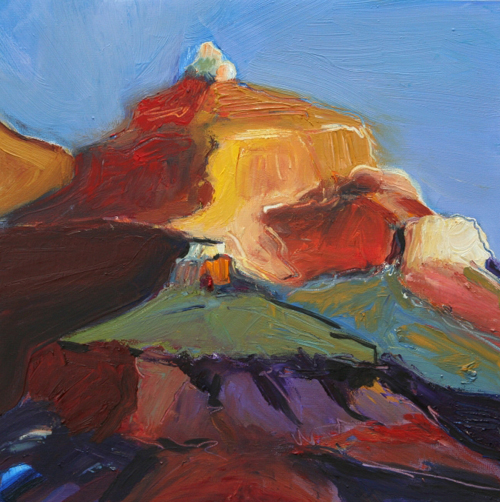 Melinda Esparza;Grand Canyon Small Scale; oil on artists board; 8" x 8"; 2010
Painter Melinda Esparza is in-residence June 22nd - July 15th.
Melinda lives in Tucson, Arizona. She received her BFA from University of Arizona in Tucson. Her work is widely exhibited, with recent shows at the Tucson Museum of Art (Arizona Biennial - 2009), FOOTLONG: National Juried Exhibition, Eastern New Mexico University (2007) to name a few. She is also a frequent participant in the Tucson Artists' Open Studio Tour (2009, 2010, and 2011). Her work has received awards and has been collected by both art patrons and institutions. When not in-studio, Melinda conducts workshops on drawing and painting. Her lovely, gestural and colorful paintings focus primarily on the southwest landscape.
Melinda: "A few years ago I learned that my ancestors migrated to this country about 15,000 years ago. This one fact resonates with me as a powerful connection to the land. I think of them when I look at the landscape. I feel a bond that is enhanced by this knowledge, one that deepens my love and non-verbal conversation with the environment - a conversation that I have with them, and with the viewers of my work, and with my experience painting. My goal in painting the Grand Canyon would be to express some of those feelings of awe and respect through paint - to inspire those who view the work not only to get a glimpse of the beauty, but also to be inspired to visit thoughtfully and to protect its legacy."
While in-residence, Melinda will conduct demos of her painting technique while working en plein air on the rim. She will also offer one artist power point talk about her work and residency.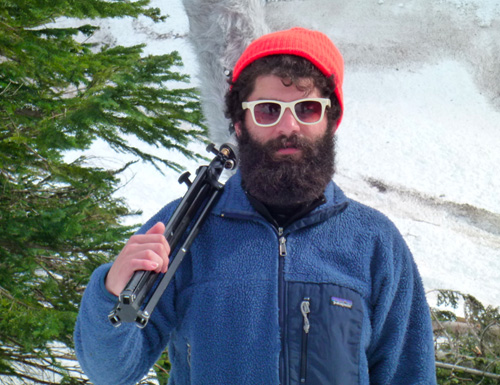 Sound Artist and Musician Erik DeLuca
Composer Erik DeLuca will be in-residence July 16th - August 7th.
Erik explores the natural resonances and rhythms of our planet and is an active community arts organizer. He lives in Charlottesville, Virginia, where he studies and teaches at the University of Virginia. He received a BA from the University of North Florida, Jacksonville, FL, and an MM from Florida International University in Miami. He is fascinated with the soundscapes found in the National Park system, recently spending time as Artist-In-Residence at Crater Lake (OR), Wrangell-St. Elias (AK), Acadia (MA), North Cascades (WA), Isle Royale (MI), and Denali (AK). In 2009, Erik received a Miami-Dade Cultural Affairs Community Grant to compose [in], an underwater soundscape composition that was released by Everglade Records in 2010. In 2012, renowned string quartet Voxare, saxophonist Michael Straus, and LSU's Hamiruge Percussion Ensemble will premier new works. Erik has an extensive performance, exhibition, and outreach resume, reaching national and international audiences.
Erik: "Music and sound influences our perception of the world. At this juncture in time, music, among other things, needs to point to nature - the un-built spaces on our planet. One of my goals as a composer is to create music that point to these places. My weird compositional process involves extensive "fieldwork" where I seep myself in these places. Overtime, my ears, like eyes acclimating to a dark space, gradually tune into the sounds and fluctuating systems that define these places and a certain intimacy is gained. This acclimation time and gained intimacy is a key component to my compositional process and reinforces the music I compose. When I return home from "fieldwork" I will use the collected "artifacts" to render a music that points to these place, amplifying their imperceptible resonances and rhythms."
While in-residence, Erik will conduct sound exploration programs where he will guide participants in listening exercises to produce a collaborative piece called Sonic Portraits, a series that has collaborated with a diverse group of people from age 6 to 70 years of age from places in Alaska, Oregon, Michigan, Virginia, and Florida. He will also present a multimedia artist talk during his residency. Erik's "fieldwork" at Grand Canyon and the "artifacts" he collects will be used to render a solo cello work commissioned by renowned cellist, Madeleine Shapiro who has been called a "cello innovator" by Time Out New York.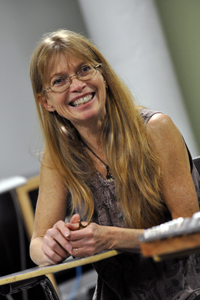 Composer and Poet Linda Chase
Flutist, composer and poet Linda Chase will be in-residence from August 8th - 31st.
Linda Chase lives in Arlington, Massachusetts, where she teaches composition, writing, performance, harmony, arrangment, ensemble and liberal arts at Berklee College of Music, and interdisciplinary arts ensemble and private studio at New England Conservatory, both located in Boston. Linda received her BA from Evergreen State College in Olympia, Washington, her Artist's Diploma in Jazz Compositions from Berklee College of Music, and her Master of Music from New England Conservatory of Music, with an emphasis in contemporary improvisation. She has been a guest lecturer and instructor at the Boston area public schools, the Boston Center for Adult Education, Harvard University and the College of the Redwoods . Her work has garnered awards from the Uchida Fellowship and the Japan Foundation, and she received the Kaji Aso Composition Award, as well as recognition from the American Association of University Women. She was in-residence with the Morris Graves Institute (Loleta, CA), and is the founder and director of her own collaborative jazz ensemble group Wild Garden Chamber Ensemble, which seeks to create new paradigms that transcend traditional boundaries in its incorporation of composition, improvisation, poetry and visual art.
Linda: "There are many things that have led me to the Grand Canyon. As a young native Californian, my family joined other families to bring food, clothing and supplies to the Pai-Pai Indians in Baja. This made an early impression on me about how much basic need there was, but also it made me aware of the deep cultural traditions evident in the dancing which we all participated in late into the night by the fire. Years later I interviewed elders from the Siletz (Oregon) tribe about the challenge of passing down art and music traditions in the midst of an American society which held little interest or even awareness of these things. Later in my adult life I traveled to Canyon de Chelly and Grand Canyon to play flutes and listen to the echoes - and be inspired by the silence. And while bicycling across Arizona, I stayed with a family who took me to the High School in Tuba City to hear string quartets written by Native American students of the Grand Canyon Music Festival's Native American Composer Apprenticeship Project (NACAP). These things have come to be formative parts of my thinking as an artist. Music, nature, and sacred places are a part of my creative process. I believe in the importance of understanding cultural connections as a way of seeking deeper experiences in places by talking with people that live there and have for generations. I come to the Grand Canyon to compose, and also to increase my understanding of American Indian spiritual ties to the sacred places there. The silence, solitude and beauty in wilderness will be of great value to me as a composer".
While in-residence, Linda will teach improvisation and composition to the local students of Grand Canyon school, and present an evening program, introducing the audience to the work of composers who, like herself, found inspiration for their work in nature and wilderness. In-studio, Linda will work on her own compositions and connect with the local community. Linda's residency will coincide with the 29th season of Grand Canyon Music Festival, offering the opportunity for her to meet with NACAP students, and the resident composer and quartets in-residence who are working with this award-winning, long-term park partner.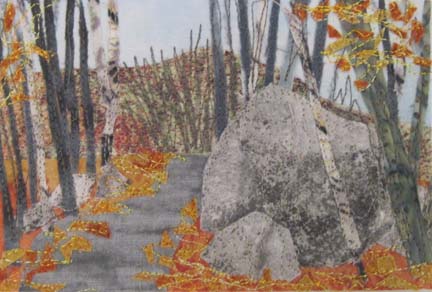 Miniature Quilt Postcard by Bobbie Sullivan; Reservoir Woods; 4" x 6"; textiles; 2011
Fabric artist Bobbie Sullivan will be in-residence for the month of September.
Bobbie lives in Scituate, Massachusetts, where she is a frequent guest lecturer, conducts workshops and teaches art quilting. She received her BA from Regis College in Weston, MA, with an emphasis on drawing, painting and photography. Bobbie has been quilting since 1976, inspired and influenced by the revival of quilt making during the bicentennial years. She has been a featured artist in American Quilter Magazine, and her work has been presented in many group and solo exhibitions nationally, including the Lowell Quilt Festival, New England Images Quilt Show (Teacher's Choice award, 1997), American Quilter's Society (Paducah, KY; First Place award); Mid Atlantic Quilt Festival (Williamsburg, VA; Best Interpretation of Theme award, 1998); International Quilt Show (Houston, TX; finalist Millennium quilt Contest, 2000); Tactile Architecture (2007); South Shore Art Center (Cohasset, MA; Best of Show 1998); And Art Quilts: New England (The Brush Gallery, Lowell, MA; 2006 and 2008) to name but a few of her exhibits and awards. Bobbie is a founding member of Coastal Quilt Artists, 12 women who come together twice a month as a critique group for their individual work. In autumn of 2010, Bobbie was an artist-in-residence at Acadia National Park in Maine, and completed a very ambitious Postcard A Day project, creating small scale, landscape-inspired art quilts featuring both natural and made-made features of this northern park. Bobbie will be in-residence this year on both the south and north rim of Grand Canyon National Park, in back-to-back opportunities.
Bobbie: "I am a contemporary quilt artist and I capture the world in fabric. My art is stimulated by emotion, and the world of nature is my catalyst. I walk 6 - 10 miles a day, and whether I am on familiar streets around my home, a local park, or off traveling, I always see something new. I have been fortunate to visit both rims of the Grand Canyon in the past two years. Having gone a whole life time before seeing the southwest, I was amazed at every bend in the road and every viewpoint on the path. As an artist-in-residence, undistracted at the Grand Canyon, I plan to make a quilt a day. These quilts will be small but impressive - the size of a postcard - which, at the end of my residency, will represent and record my experience. This project, Postcards from the Edge of the South Rim: 21 Days at the Grand Canyon, will be a journal of my Grand Canyon residency. I particularly like the idea of writing on the back of the cards and sending some though the mail. Postcards are a part of the traveling landscape and the souvenir shops are filled with them. Miniature meets magnificence; I look forward to this challenge."
While in-residence, Bobbie will offer both a demo/hands-on workshop and an artist talk. In-studio she will be pursuing her Postcard project and spending time hiking the rim and the inner Canyon, in search of new landscapes to translate into her tiny art quilt masterpieces.