Grand Canyon's Artist-in-Residence Programs


by Gunnar Widforss
watercolor
Fred Harvey Co. postcard image
circa 1933
Jump to >>
Application Information

National parks have always welcomed artistic interpretations in support of land advocacy. Thomas Moran's evocative and astounding paintings directly influenced the establishment of our first National Park (Yellowstone, 1872).

This tradition continues today with more than 40 Artist-in-Residence programs throughout the National Park Service system.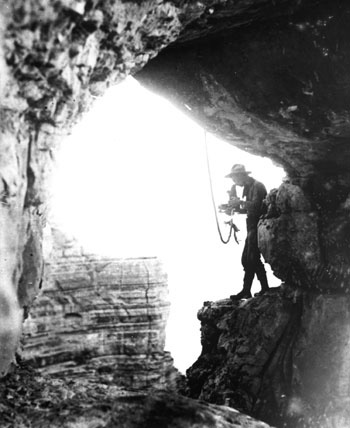 Ellsworth Kolb photo
Grand Canyon National Park
circa 1915
With changing times come bold new visions of what art can contribute to our conversation about preservation, environmental issues, and park (and arts) advocacy.
Grand Canyon National Park's Artist-in-Residence Program seeks artists whose work is engaged in issues that are relevant to the

Park's Interpretative Themes

while also challenging the visitor to become an active participant in preservation and environmental and cultural advocacy.
We are pleased to host artists who communicate complex and contemporary issues through their chosen medium. Artists in all genres and in all disciplines, contemporary, traditional, or folk who have a genuine interest in contributing to our on-going national discussion on these issues will be of special interest to our program.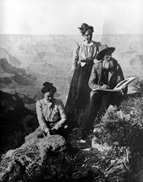 photographer unknown
Whether you are a traditionalist in the vein of Thomas Moran or a contemporary artist creating new paths towards understanding both environmental and cultural issues, you are welcome here.
The Artist-in-Residence Program offers professional artists the opportunity to spend three weeks on the North Rim of Grand Canyon in housing provided by the National Park Service. The North Rim AiR program is seasonal, with five residencies during the summer and early fall.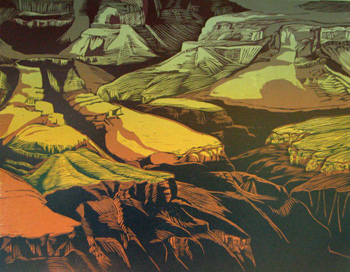 Hand-colored wood engraving print on paper
by Siri Beckman
South Rim AiR, October, 2010
Artist opportunities: Contemporary, folk and traditional forms, including but not limited to:
Visual arts: painters, sculptors, printmakers, new media artists, muralists, designers, ceramicists, artisans, multi-discipline artists, fiber artists, mixed media artists, jewelers
Media: photographers, film makers, videographers
Writers: fiction and non-nonfiction writers, poets, playwrights
Performing arts: composers, musicians, dancers, choreographers, performance artists, storytellers, dramatic artists
AiR artist proposals should be site-specific to Grand Canyon National Park, support the park's Interpretative Themes, and will focus on such issues as ecology, the environment, park advocacy, conservation and other themes relevant to the parks.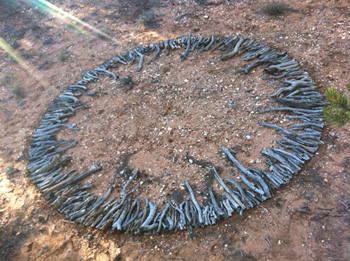 Site-specific, found objects, temporary installations, this is one of 40 pieces inspired by Grand Canyon "You Are Here" dots on maps
by Michael Yinger
South Rim AiR, November 201
These artist opportunities are designed to both engage and inform the public audience (through outreach programming), and provide quality uninterrupted time for artists to pursue their own body of work.
The North Rim of Grand Canyon, much of it true wilderness, offers unparalleled inspiration and unspoiled solitude for artists. The artist resides in a small historic cabin on the rim for a three-week period in summer and early fall. The North Rim offers seasonal AiR opportunities for 4 - 6 artist or artist couples during the May - October season.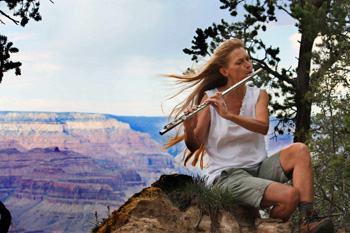 SR AiR Linda Chase - August 2012
photo credit: Autumn Chase-Dempsey
In exchange for the adventure of living and working in a national park, the resident artist has the opportunity to create works that generate understanding and dialogue about the need to preserve this national treasure-one of the seven natural wonders of the world.
Find more information here:
Application Information


Artists have been selected for program through 2017. During the last application process, we had over 450 applications. No honorarium is available at this time to off-set the expenses that the artists accrue while in residence. Currently the program provides a furnished living space, focused studio time, and public outreach and presentation opportunities for selected artists.

The North Rim will start accepting applications again on February 1, 2017, for 2018. The South Rim AiR Program has been suspended indefinitely. Please check this website periodically for updated information. If you have further questions, you may email us at GRCA_AiR@nps.gov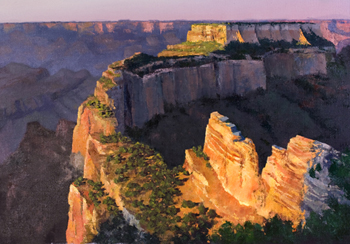 Oil on canvas
by Paul Murray
North Rim AiR September, 2010
A new website

that provides links to
all National Park Service
Artist-in-Residence program information
has been published!
You can find that HERE
Thanks for your interest in
Grand Canyon National Park's
artist-in-residence program!