Join a Park Ranger
Summer 2013 Daily Naturalist Activities
May 27 through September 2nd
Bartlett Cove
During the summer months, park rangers provide a variety of fun, informative, and free guided activites every day. Join a ranger for a guided walk along the beach, or through the lush temperate rainforest of Bartlett Cove. Don't miss our evening programs presented each night in the park theater, upstairs in the Lodge. Also, check out our "Discovery Days" for kids!
Glacier Bay National Park Visitor Center
Upstairs in the Glacier Bay Lodge
Exhibits, Bookstore, Theater, Park Information, Reading Area, Underwater Listening Station
Open daily

8:30 AM
Thursdays, Fridays, Saturdays, Sundays
Guided Hike: Explore The Shore
Explore the shorelines and forests of Bartlett Cove with a park ranger. 2.5 hours, routes vary.
Hike begins and ends at the Glacier Bay Lodge Lobby.
1:15 PM-Daily
Park Film
"Treasures of the Great Land, AK National Parks"
In the visitor center theater
2:00 PM Daily
Guided Walk on the Forest Loop Trail
Discover Bartlett Cove, a land of great change. 1.5 miles, 90 minutes, easy walking
5:00 PM Daily
Park Film
"Glacier Bay: Beneath The Reflections"
In the visitor center theater
7:00 PM Daily
Park Film
"Glacier Bay: Forever Wild"
In the visitor center theater
8:00 PM Daily
Evening Ranger Program
Join a ranger for an informative slide program. In the visitor center theater. 45 minutes.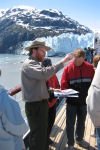 Trips up the Bay
Park rangers are also onboard cruise ships and tour boats to answer questions, interpret the scenery, history, and wildlife, and help you appreciate the wonders of Glacier Bay National Park.
Did You Know?

Sitka Spruce is the third largest coniferous tree in the world. One tree even grew to 328 feet!