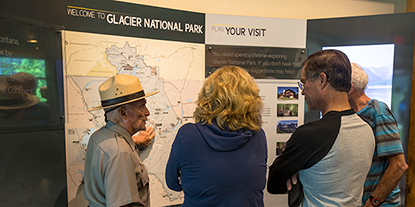 NPS photo
Where is the Information that I Need?
Pre-trip planning is important. Below are a few quick-links to some of the most often sought information.
Basic Information
Learn about entry fees, what weather to expect, what to do with your pet, and what's available during different times of year.
Directions & Transportation
Learn how to get around, whether in your own vehicle or via the free shuttle.
Eating & Sleeping
Find where to get food and lay your head, including links to camping information.
Places to Go
Many people mistakenly think the Going-to-the-Sun Road is the only highlight in the park. Did you know there are many more opportunities to discover the majesty of Glacier? Explore the options.
Things To Do
Biking, hiking, boating, guided tours, ranger talks...it's all here. Check out all the great outdoor activities Glacier has to offer. See our suggestions for Trip Itineraries.
Safety
Learn how to keep yourself safe while exploring the park.
Accessibility
Glacier's terrain can present challenges. Find what is available to visitors with special needs.
Nearby Attractions
There are things to do and see in the areas beyond the park boundary.
Brochures
We have made publications available online and through the mail. Visit our brochure page to download or view our summer newspaper, vacation planner, other publications and site bulletins for quick, yet detailed information.