Disabled Traveler's Companion Website
Glacier National Park is a spectacular mountain landscape that can present difficult challenges for visitors with special needs. Improvements in accessibility are being made each year and with a bit of pre-planning, all visitors can find Glacier to be a rewarding experience.

Disabled Traveler's Companion Website Logo
A good place to look for the latest information on accessibility is the Disabled Traveler's Companion Website. While not officially affiliated with the National Park Service, they have been working with Glacier and other national parks to provide valuable information to travelers with disabilities. Their website contains information on and photographs of campgrounds, lodges, and park attractions that will aid in planning your trip to Glacier.
Glacier also has a brochure available online that highlights accessible facilities and services. It can be found on the Park Publications page of the website.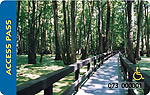 Learn about the America the Beautiful National Parks and Federal Lands Access Pass which provides a wide range of discounts on activities and services when you visit federal lands.
Accessible Trails
Going-to-the-Sun Road
Apgar Bicycle/Hike Trail, located between Apgar and Headquarters: 1.63 mile (2.6 km) asphalt surface
Trail of the Cedars Nature Trail at Avalanche Campground: 0.7 mile (1.1 km) wood/asphalt surface
Lake McDonald Trail, located by the Lake McDonald Lodge boat dock: 360 ft (110 m) concrete surface
Oberlin Bend Trail: 400 ft (122 m) metal-grated surface
Two Medicine
Running Eagle Falls Nature Trail: 1800 ft (548 m) stabilized soil surface
US Highway 2
Goat Lick Overlook: 400 ft (122 m) asphalt surface
Many Glacier
Swiftcurrent Nature Trail at Grinnell Glacier Trailhead: 0.25 mile (0.4 km) stabilized soil surface
Service Animals
Service animals are allowed in national parks. For a definition of a service animal, please see the Americans with Disabilities Act (ADA) definition. For information on four-footed friends that do not qualify as service animals, see the Pets page.
A service animal shall be under the control of its handler. A service animal shall have a harness, leash, or other tether, unless either the handler is unable because of a disability to use a harness, leash, or other tether, or the use of a harness, leash, or other tether would interfere with the service animal's safe, effective performance of work or tasks, in which case the service animal must be otherwise under the handler's control (e.g., voice control, signals, or other effective means).
Glacier National Park does not recommend the use of service animals in the backcountry. Having a service animal in the backcountry puts you and the animal at increased risk for wildlife confrontations. Your safety and the safety of your animal are not guaranteed. Furthermore where domestic animals and wildlife overlap there is a possibility of exchanging diseases between the two groups.
Please remember, wildlife can be encountered anywhere in the park, even near developed and busy areas like visitor centers. Mountain lions, bears and moose are of obvious concern, but smaller animals like foxes, coyotes, and even squirrels could cause issues for service animals unused to encountering wildlife. Eagles may also be a concern for particularly small service animals who may be viewed as prey.