Logan Pass water system temporarily down

The water system will shut down Tuesday afternoon, July 22, and the temp system is anticipated to be working by the weekend. Visitors should bring water or refillable water bottles. There will be some water available to refill bottles in the parking lot. More »
St. Mary Visitor Center temporarily closed

It is believed that the furnace in the visitor center malfunctioned and caused the sprinkler system to activate early this morning. There is water damage to the building, its contents, and some of the utility systems. The damages are being assessed.
Directions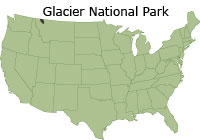 Glacier National Park is located in the northwest corner of Montana along the spine of the Rocky Mountains.
By Car
West Entrance – Near the communities of Kalispell, Whitefish, and Columbia Falls, the West Entrance provides access to the Lake McDonald area, Park Headquarters, the Apgar Visitor Center and is the west entry point to the Going-to-the-Sun-Road. From Kalispell, take Highway 2 north to West Glacier (approximately 33 miles).
St. Mary, Two Medicine, and Many Glacier Entrances – Closest to the town of Browning, all three entrances can be reached by taking Highway 89 north from Great Falls to the town of Browning (approximately 125 miles) and then following signage to the respective entrance. The St. Mary Entrance is the east entry point of the Going-to-the-Sun-Road and provides access to the St. Mary Visitor Center and services at Rising Sun. The Many Glacier Entrance provides access to the Many Glacier Valley and visitor services at the Many Glacier Hotel and the Swiftcurrent Motor Inn.
By Air
Several commercial service airports are located within driving distance of Glacier National Park.
West Entrance - Glacier Park International Airport is located near Kalispell and is approximately 30 miles west of the West Entrance. Missoula International Airport is located approximately 150 south of the West Entrance.
St Mary, Two Medicine, and Many Glacier Entrances - Great Falls International Airport is located between 130 miles to 165 miles east of East Glacier Park, St Mary, Two Medicines and Many Glacier Entrances.
Car rentals are available at airports. Shuttles are available at the Kalispell airport.
By Train
Amtrak services both East Glacier and West Glacier. Glacier National Park Lodges provides a shuttle (for a fee) that transports West Glacier Amtrak passengers between the train depot and Apgar and the Lake McDonald Lodge. Please call 855-SEEGLACIER (855-733-4522) for more information. Reservations are required.


Did You Know?

Did you know that male moose use almost as much energy growing their antlers yearly as female moose use being pregnant?