Current Conditions
What is it like in Glacier right now? The following information should help you in understanding current conditions in Glacier National Park.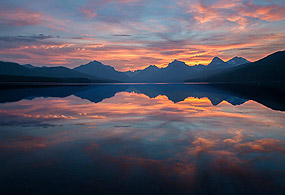 Tim Rains, NPS
The Park is Open
Glacier National Park is always open; it never closes. Right now, visitors are finding great opportunities to explore different areas of Glacier National Park. If you are wondering what diverse areas await you, see our Plan Your Visit page.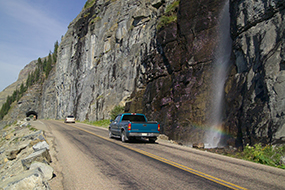 NPS Staff
Going-to-the-Sun Road
The Going-to-the-Sun Road opened for the summer on Wednesday, July 2nd. It will remain fully open until September 22, when it closes on the east side between St. Mary and Logan Pass. Weather permitting, the last day to reach Logan Pass via the west side will be October 19. It is always a wise idea to check Road Status before heading out, there can be temporary closures due to weather occasionally.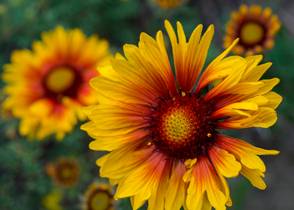 NPS Photo, Tim Rains
Fall Schedule

With Labor Day approaching, changes are on the horizon for Glacier. Weather permitting, the Going-to-the-Sun road remain entirely open through the 21st of September. The free shuttle on the Going-to-the-Sun Road will operate through September 7th. Fish Creek is the only campground to close on Labor Day with Avalanche not too far behind on September 8. For all campground dates, please visit our campground status page.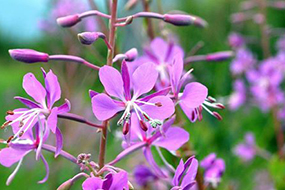 Bill Hayden, NPS Staff
Wildflowers
Flowers are in bloom! This is a great time to see the approximately 850 different species of wildflowers or forbs in the park. Mid-season, or even early season bloomers, can still be seen in places as you gain elevation. Fireweed and other late season bloomers are starting to emerge. This is also a banner year for huckleberries, if you ask the veteran staff members picking them during lunch break.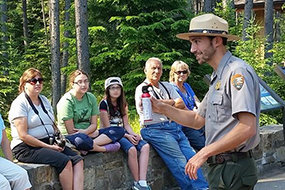 Tim Rains, NPS Staff
Ranger-Led Activities
A wide variety of ranger-led programs are offered throughout the park everyday. These offerings include guided hikes, talks, boat tours, drop-ins, and evening programs. Opportunities abound for all ages and skill-levels. Check the monthly Ranger-led Activity Schedule for specific dates, locations, and times.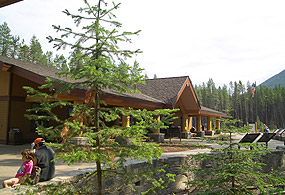 NPS Photo
Visitor Centers and Entrance Fees
The Apgar Visitor Center has moved! Check out the new location at the Apgar Transit Center building. For operating dates and hours of visitor centers and ranger stations, please visit our Operating Hours and Seasons page. Pass sales are available at the Entrance Stations, Headquarters or through the U.S. Mail. For more information on passes and pricing, please visit our Entrance Fee page.
NPS Photo
Camping and Boating
All of our campgrounds are open for the summer season. For the latest information, historic fill times, amenities, fees and opening/closing dates, please see our Campground Status page. During July and August, our campgrounds can fill on a nightly basis, if you are not arriving in the morning/early afternoon, it will be beneficial to make a reservation inside or outside the park. For reservation inside Glacier National Park, contact recreation.gov.
S. Pieper, NPS Staff
Trails
Now is a great time to hit the trail (any trail) in Glacier. But remember, hikers are not the only ones that use the trail system. Trails are sometimes posted or closed for frequent wildlife activity. For the latest information on the trails, please visit our Trail Status page. For information on closures please visit our trail and area closures page.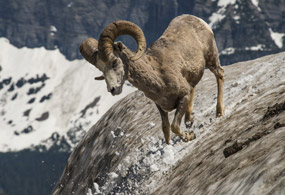 Tim Rains, NPS Staff
Wildlife
Summer is a great time to see high elevation critters at Logan Pass, such as Bighorn sheep, Mountain goats, marmots, pikas and Columbian ground squirrels. While viewing wildlife it is important to remember that approaching, remaining, viewing or engaging in any activity within 100 yards of bears or wolves, or within 25 yards of any other wildlife is prohibited. It is always a good idea to check our safety information concerning wildlife and humans.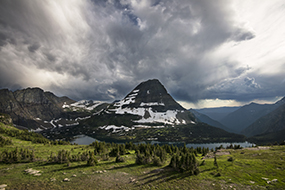 Tim Rains, NPS Staff
Weather
Weather is always unpredictable in the mountains. There can be drastic temperature differences between the valley bottom and the mountain passes. Be prepared for all types of weather! For a clickable map of Glacier National Park weather visit the National Weather Service Recreation Safety Forecast for Glacier National Park. For a text version of the weather forecast for Glacier visit their Glacier National Park Forecast page. Visit our Weather page for information on temperature averages.
Did You Know?

Grizzly bears in the park have a wide variety of food sources, including glacier lily bulbs, insects, and berries. They may also make an early season meal of mountain goats that were swept down in avalanches over the winter.