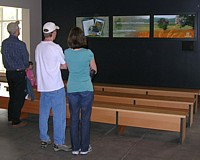 (National Park Service)
Special Programs
A 20 minute film entitled "A New Birth of Freedom" about the Battle of Gettysburg is shown every 15 minutes throughout the day. Visitors then go directly to the cyclorama auditorium to view the "", the dramatic 1884 painting that depicts "Pickett's Charge". There is captioning and listening assistance available for visitors with special needs in both auditoriums.

Park volunteers staff the museum gallery and Resource Room throughout the day. Park ranger programs are held just outside of the center during the summer months and on weekends in the spring and fall.

Reservations for a battlefield tour with a Licensed Battlefield Guide are available at the Visitor Center.

Exhibits
The Gettysburg Museum of the Civil War, featuring items from one of the largest collections of Civil War relics in the world, is available for viewing during regular center hours. The exhibit galleries and interactive programs take the viewer through the causes of the Civil War to its bloody end, with extensive displays on the battle of Gettysburg and the personalities who served in the armies as well as the civilians who experienced war on their doorsteps.
Admission Fees
There is a fee to enter the museum gallery, film and cyclorama program, posted on our Fees and Reservations page.
Facilities for Disabled Visitors
Parking for disabled visitors is available in Parking Lot 1, the closest to the Visitor Center, though arrangements for pick up and drop off in the group entry area can be arranged through the Gettysburg Foundation, which operates the building. Restrooms area accessible from the lobby and museum area and there are visual and sound accessories available for mobility, hearing or sight impaired visitors. Service dogs are allowed in the building and must remain with the owner at all times. For additional information, see our page on .
Book Store
The museum and visitor center bookstore is operated by . For information on the store's holdings and book titles, contact the store at (717) 334-2288.
Refreshment Saloon
The center has a refreshment saloon operated by Aramark and offering a selection of snacks, sandwiches, and drinks. For information about the saloon, contact Aramark at (717) 334-5629.
Access to Eisenhower National Historic Site
The shuttle to Eisenhower National Historic Site is located at the Visitor Center. Visitors can purchase their tickets for the shuttle bus to the Eisenhower Farm at the ticketing counter.
For a general fact sheet about the museum and visitor center and other facilities at Gettysburg National Military Park, see our page. (pdf, 104KB)
Please Note: The Museum and Visitor Center is operated by the Gettysburg Foundation.
The carrying or possession of any type of weapon on the grounds of the visitor center or in the building is prohibited. Exceptions: Law enforcement officers or officials that are within their jurisdiction.

---