EMPLOYMENT WITH THE NATIONAL PARK SERVICE
Employment opportunities with the National Park Service at Gettysburg National Military Park are announced through the Office of Personnel Management (OPM) and posted at USAJOBS.GOV. For a current listing of openings, visit http://www.usajobs.gov/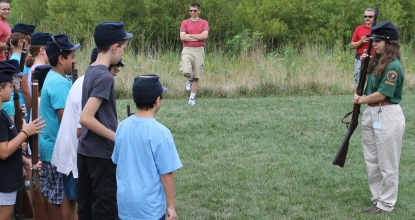 (National Park Service)
SUMMER INTERNSHIPS AT GETTYSBURG
Gettysburg National Military Park offers summer internships to college-level students who are self-motivated, enthusiastic, and interested in history. We prefer people who seek to share their talents while gaining valuable work experience. Internships are typically offered in the summer months when the park is busiest, lasting ten to twelve weeks from mid-May through mid-August. Positions are unpaid, although the park provides free housing and a cost of living stipend. Interns work forty hours each week and weekend work can be expected. Duties will include working with the public, preparation of interpretive programs, historical research, and provide assistance to visitors at the park information desk.
There are a limited number of internships available in the Division of Interpretation and Visitor Services at Gettysburg National Military Park. For further information about our Internships and how to apply, download our Informational Flyer on Summer Internships at Gettysburg.
Eisenhower National Historic Site also offers summer internships in Interpretation and Museum Services. For further information, visit the Eisenhower National Historic Site web site at http://www.nps.gov/eise.
Applications for the 2015 summer season closed December 31, 2014.