Prescribed Burn Postponed

The prescribed burn on approximately 180 acres of monument land starting the week of October 13 has been postponed. If conditions and planning updates are met, the operation may still occur later the month or maybe spring. Check back for updates. More »
Things To Do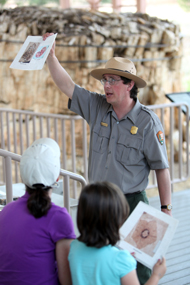 NPS Photo by Sheena Grabski
A typical visit to Florissant Fossil Beds National Monument lasts about 2 - 4 hours. We recommend that all visitors begin their visit at the visitor center.
At the visitor center, you will receive orientation information and you can see geologic exhibits and fossil displays. The bookstore and bathrooms are also located there.
A great way to start your visit is with an introduction to the geologic forces that created our two kinds of fossils. You could either start with the 14 minute orientation film in the Visitor Center Theater called "Shadows of the Past" or a Ranger Talk in the amphitheater behind the Visitor Center.
Behind the visitor center is an outdoor exhibit area where you can see petrified redwood tree stumps and associated exhibits.
From the outdoor exhibit area you will have access to two self-guided trails called the Ponderosa Loop Trail and the Petrified Forest Trail that exhibit petrified redwood tree stumps.
Additionally, the Monument has a total of 14 miles of hiking trails.
In the summer (June 1 - Labor Day), general daily program schedules include:
10:00 AM Ranger Talk
Ranger guided walk at 11:00 AM (1 mile, 1.5 hours)

Fossil Learning Lab in our Yurt Tent from 1:00 PM - 3:00 PM

Hornbek Homestead Tours 3:00 - 4:00
Disclaimer:
Please call (719) 748-3253, a week or two before your visit to find out more detailed schedules



Did You Know?

Most fossils in the monument are from the late Eocene (34.07 million years ago), but a tooth and jaw fragment from a much younger mammoth have also been found. The fossils are from the Pleistocene Epoch and are at least 50,000 years old.