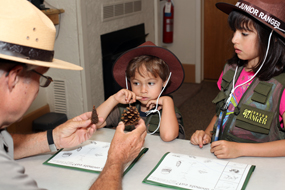 NPS Photo by Sheena Grabski
Florissant Fossil Beds National Monument is an excellent place for kids to explore, discover, learn, and have fun and we have two different programs for children available year round! The programs are a fun way to explore the park with your family while learning about the National Park Service. They are designed to help children explore the park, learn about its resources, and learn how to protect them. The children's activity booklets are available in the Visitor Center.
Children should be accompanied by an adult to participate in these programs.

The booklets are intended to be fun and educational. If your child has any trouble finishing, see a ranger and they will help you.
When they are finished, return to the visitor center desk and review your activities with a ranger or volunteer who will then sign the certificate and present your child with their sticker, badge, or patch.
Junior Ranger is for children ages 4 years old and above
This booklet is designed to help children learn about the fossils at Florissant Fossil Beds, how the fossils were formed, and about the history behind the Hornbek Homestead.

The older the child, the more activities and games they are required to complete.

Each child who completes the required activities and games will earn a Junior Ranger Certificate and either a Junior Ranger badge or a Junior Ranger patch (for a $1 donation to the Friends of the Fossil Beds you may have both).

The average time for kids to complete the junior ranger book is 2 hours.

Visit the "Be A Junior Ranger" page for more information about the Junior Ranger Program


Junior Paleontologist is for children ages 5-12 years old
This booklet is designed for children with a strong interest in fossils and who wants to become a paleontologist when they grow up. It is a national booklet and it is available at over 15 different fossil parks.

Each child who participates will earn Junior Paleontologist badge.

For more information about the program click here: Junior Paleontologist Program

Florissant Fossil Beds National Monument also hosts several fee free children's days every year.


Become a webranger

Become a Junior Ranger Online