Pet Restrictions in Effect March 15 through Labor Day

Dogs/other pets (except for service animals) are not allowed in the wilderness or on any of Fire Island's federally owned oceanfront beaches from March 15 through Labor Day to help protect threatened and endangered beach-nesting shorebirds. More »
Backcountry Camping Permit and Access Procedures

Reservations for required permits must be obtained through www.recreation.gov. Due to the breach at Old Inlet, access to both east and west wilderness camping zones must now be from Watch Hill or points west, and involve a 1½ to 8 mile hike. More »
Attention Watch Hill Ferry Passengers

Due to channel conditions, delay or cancellation of ferry service between Patchogue and Watch Hill may occur. For updated ferry schedule information, please call 631-475-1665.
Sunken Forest
Fire Island's Sunken Forest is a rare ecological community. The Maritime Holly Forest is only found behind well-established sand dunes along the Atlantic coast from New Jersey to Massachusetts. It is one of six forest types recognized in the National Vegetation Classification System. According to the New York Natural Heritage Program, this state's maritime holly forest was ranked as "globally rare," meaning there are few remaining occurrences of this assemblage of plants throughout the world.
Today you can easily visit this rare habitat from May to October, when ferries run from Sayville to Sailors Haven. Throughout the year you may stroll along the boardwalk, although facilities (restrooms) and other services are not available when ferry service is not operating.
The Sunken Forest Preserve
First protected from development in the early 1950s by a concerned group of private citizens, a 50-acre tract of beach, dunes and ancient holly forest just east of Point O'Woods was gradually cobbled together through a fundraising campaign spearheaded in 1952 by the Wildlife Preserves, Inc, and The Nature Conservancy. Sunken Forest Sanctuary was officially dedicated as the Sunken Forest Preserve in 1960. The entrance plaque can still be seen along the western trail entrance.
In May 1966, the Sunken Forest Preserve, Inc. donated the property to the recently established (1964) Fire Island National Seashore, under the condition that the property shall always be maintained in its natural state and operated as a sanctuary, and that no public road or highway shall be built through it.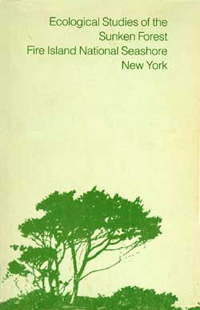 Learn More
Ecological Studies of the Sunken Forest, Fire Island National Seashore, New York
Henry Warren Art, 1976
Origin and History of Maple Bog in the Sunken Forest, Fire Island, New York
Leslie A. Sirkin, 1972
Sunken Forest Trail Guide (1977, revised 1988)
Although the trail numbers have been rearranged and some of the scientific names have changed, this out-of-print booklet includes a lot of good information for study. Visit the Sunken Forest and compare the plants and animals you can see today with those identified in this booklet, and you may be able to see how some conditions have changed over the past twenty years.
Discover the Sunken Forest

A good way to explore the maritime holly forest at Sailors Haven is to take a guided tour. Read More

Birdwatching

is a great way to enjoy Fire Island's wildlife. Read More

Enjoy Ranger-guided Activities

A variety of interpretive programs are available year round to help you learn more about the natural and cultural resources in the Seashore. Read More
Did You Know?
At least 2.2 million people spend time within the boundaries of Fire Island National Seashore every year. Almost 800,000 people annually visit park facilities. July and August are the busiest months. Sunny weekends are the busiest days. More...