New Backcountry Camping procedures

Reservations for required permits must be obtained through Recreation.gov. Due to the breach at Old Inlet, access to both east and west wilderness camping zones must now be from Davis Park or access points west, and involve a 2½ to 10 mile hike. More »
Fall on Fire Island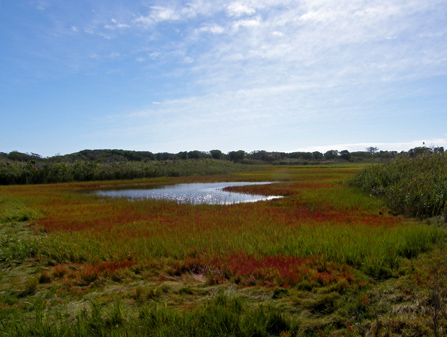 After Labor Day, the air usually cools and the summer crowds dwindle. After the first frost, mosquito and tick populations decline. Although ferry service is reduced, you may still enjoy Fire Island National Seashore. By mid-fall it is the perfect time to enjoy nature and the backcountry portions of Fire Island. Hiking and backcountry camping in the Fire Island High Dune Wilderness, although available year-round, is now recommended.
Catch the annual migration of birds and monarch butterflies. Watch as the poison ivy turns red across the island and see why some believe that it was this plant that led to the name "Fire Island."

Autumn is fishing and hunting season (waterfowl only). Proper permits (some fees are applied) can be obtained at the Wilderness Visitor Center and the West District Ranger Station (checkpoint).


Facilities Open:
Birdwatching

is a great way to enjoy Fire Island's wildlife. Read More

Wilderness Visitor Center & Backcountry Permit Desk Hours

Rangers issue permits for wilderness camping when this office is open. While the breach at Old Inlet remains open, however, all permits must be picked up at the Watch Hill Visitor Center. Read More
Did You Know?

Tiny insectivorous plants called sundews (Drosera rotundifolia and D. intermedia) may be found in the low moist swales between dunes in the Fire Island wilderness area. Sundew gets its name from the glistening sticky substance on its leaves that traps ants and other small insects. More...