More Park Facilities Reopen During May 2013

Watch Hill and Sailors Haven marinas open May 10. Limited ferry service from Sayville to Sailors Haven resumes May 13 and ferries from Patchogue to Watch Hill start on May 18. Remaining park facilities to reopen by May 25, 2013. More »
Lodging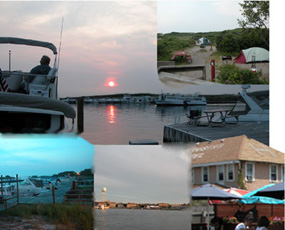 Fire Island Offers a Variety of Options for Overnight Stays

You may stay overnight at several facilities within Fire Island National Seashore. There are also opportunities for overnight stays at Smith Point County Park, several township marinas, and numerous homes and small hotels within a few of the seventeen communities on Fire Island.
The walk-in campground at Watch Hill and the marinas at Watch Hill and Sailors Haven are open from mid-May to mid-October. These facilities are operated by a National Park Service concessioner, Fire Island Concessions, LLC. Both locations are accessible only by ferry, water taxi or private boat.


Wilderness camping in the Otis Pike Fire Island High Dune Wilderness is available all year, but heat and abundant ticks and mosquitoes make this a less desirable option during the summer. A permit is required and restrictions are enforced. You must hike at least 1½ miles in from the wilderness boundary, and carry out everything you've taken in with you. You can enter the wilderness area from either Watch Hill or Smith Point (beyond the Wilderness Visitor Center).

Marinas at Fire Island National Seashore's Sailors Haven and Watch Hill can accommodate some vessels up to 20 feet wide and 60 feet long. However, all vessels must have a relatively shallow draft to enter each marina. With proper equipment and lighting, boats may also anchor overnight in the Great South Bay.

Rental housing units are available in Fire Island communities through commercial real estate agencies. None of these establishments are operated by the National Park Service. You must make your own arrangements. Local tourism links may help you make connections.

Logistics on Fire Island can be quite complicated, so be sure to review ferry schedules in advance. Ferries run regularly to the island in the summer months but are limited in the off-season. See "Directions" for park access information.

Watch Hill Campground
Fire Island Wilderness Camping
Watch Hill Marina
Sailors Haven Marina
Accommodations in Local Communities
Accommodations on Long Island or near gateway communities
Greater Patchogue Chamber of Commerce
Greater Sayville Chamber of Commerce


Did You Know?

In 2014, America celebrates the 50th anniversary of the signing of the Wilderness Act on September 3, 1964, just a week before the establishment of Fire Island National Seashore.