Pet Restrictions in Effect March 15 through Labor Day

Dogs/other pets (except for service animals) are not allowed in the wilderness or on any of Fire Island's federally owned oceanfront beaches from March 15 through Labor Day to help protect threatened and endangered beach-nesting shorebirds. More »
Backcountry Camping Permit and Access Procedures

Reservations for required permits must be obtained through www.recreation.gov. Due to the breach at Old Inlet, access to both east and west wilderness camping zones must now be from Watch Hill or points west, and involve a 1½ to 8 mile hike. More »
Attention Watch Hill Ferry Passengers

Due to channel conditions, delay or cancellation of ferry service between Patchogue and Watch Hill may occur. For updated ferry schedule information, please call 631-475-1665.
Fire Island: Your Dynamic Outdoor Classroom
Fire Island National Seashore provides activities and resources to enhance your educational program with place-based learning. Plan a spring or fall field trip by ferry to Sailors Haven/Sunken Forest or Watch Hill, visit the Fire Island Lighthouse or Fire Island Wilderness by bus all year, or learn more about the William Floyd Estate.
Explore natural barrier island dynamics, climate change, history and more. Schedule a ranger-guided program or tour, or explore the Seashore on your own.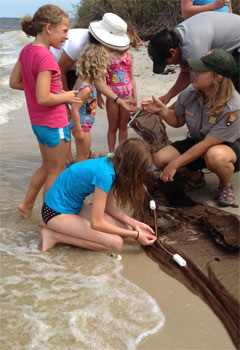 Features
Tour the Fire Island Lighthouse

Climb to the top of the tower for a spectacular view of Fire Island. Marvel at the original first order Fresnel lens now on display below.

Read More

Discover the Historic William Floyd Estate

Ranger-guided tours at the 613-acre William Floyd Estate provide glimpses of wildlife and a taste of three centuries of history.

Read More

Plan Your Field Trip to Fire Island!

Outstanding resources to teach science, math and history in an inspirational setting at an affordable cost. Find out about free Educators' Workshops.

Read More