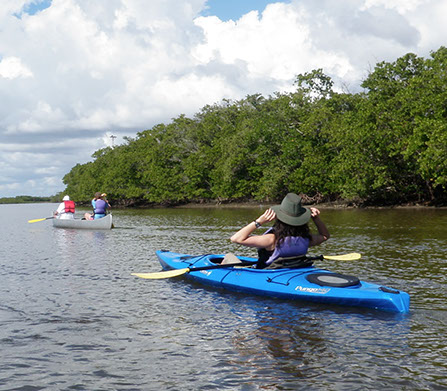 To complete the canoe/kayak leg of the triathlon participants will start from the Gulf Coast Visitor Center located in Everglades City. Check in at the visitor center to get maps, directions, and up to date tide and weather information. Paddlers should wear closed toed shoes to protect their feet from cuts on oysters, rocks, and shells. Sun protection and extra water are recommended as well as insect repellant in the spring, summer, and fall. Participants may bring their own equipment, rent equipment at the visitor center or from other vendors within Everglades City. There is no entrance fee associated with the Gulf Coast Visitor Center.
To review the route using Google Earth
click here
. For those with a Garmin GPS you can get the track log for the route by
clicking here
.
General Safety Considerations
Click here for a guide to "Playing it Safe" while exploring in backcountry areas of south Florida. Be sure to check weather conditions before going into the woods and be sure to dress appropriately. Each participant should be prepared with plenty of water, sunscreen and snacks. Bringing a hat and mosquito repellent are a good idea as well, though you may not encounter bugs during certain times of the year. For more information, please click here for a short informative video highlighting excellent safety tips!
Cell phone coverage is spotty, and you should not rely on them alone. Be sure to let a family member or friend know where you are going and when you are expected to return. Advise them that if they do not hear from you within a reasonable time from your pre-arranged plans to contact Park Dispatch at - 800-788-0511.
---