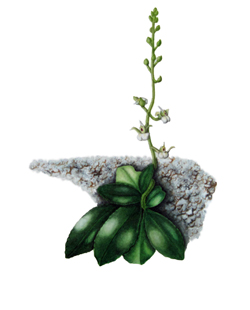 Original artwork courtesy of Kathleen Konicek-Moran, NPS volunteer
Despite the challenges of human alterations, abundant endemic plant species remain. From photosynthetic periphyton, which is the tiniest building block of the Everglades food chain, to the largest remaining stand of pine rockland forest in south Florida, each and every plant cell plays an important role in the Everglades ecosystem. The great floral variety of the Everglades is one of the key resources of the park.
Among the more prominent and colorful plants are bromeliads and epiphytic orchids. Thirty-nine native orchid species occur in the park, in addition to about 750 other kinds of native seed-bearing plants. Within the park, a total of 164 plant species have been listed by the State of Florida, including 47 as threatened, 113 as endangered, and 4 as commercially exploited. That is nearly one out of every four (22.5%) of the park's native plant species! Two native plant species within the park have been federally listed, including one as threatened and one as endangered, and five species are candidates for listing. Although the number changes from time to time as more information is gathered, 66 species that are native to the park are considered to be critically imperiled in south Florida, including grasses, sedges, ferns, orchids, shrubs, trees, and vines. Some of these species are pretty to look at and some of them less so, but each has adapted to a special niche in the watery world of the Everglades.