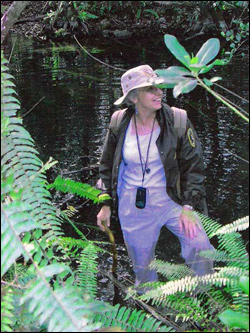 NPS photo by Laurie Humphrey
My artistic life began when I ventured into Miami to take a course in botanical watercolor at Fairchild Tropical Botanic Garden in 2007. Soon afterwards I began drawing and painting native plants for Everglades National Park, creating first a trail guide and then trail signs. I work with a wonderful botanist, Jimi Sadle, who had begun focusing on endangered and threatened plants, which are, unfortunately, not uncommon in the Everglades because of the park's long history of water problems due to development and agricultural issues outside its boundaries. Jimi inspired me to embark on my goal of painting every endangered plant in the park before they were lost to the world.
In 2011 we organized an exhibit of botanical art, in collaboration with the Miami-based , depicting some of these endangered plants. This was followed in 2013 by an exhibit focused on botanical exploration in the Everglades, which is now traveling throughout Florida.
The Everglades have been the source of inspiration and adventure for me for many years now, and I hope that they will be for you. They are yet a wilderness, which is amazing in these days of rampant development. Although they have their share of discomforts and danger, the Everglades of Florida are also rife with miracles.