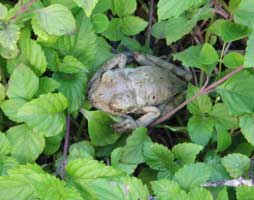 Imagine for a moment, that you're touching a frog's skin. How would it feel? Now imagine the back of an alligator, with its scaly back.
Which animal would have the smooth back and which would have the rough back?
It's all about the skin:
First – Amphibian skin is smooth and moist. They do not have that thick, scaly skin that is a trait of all reptiles. Amphibians do not have scales, feathers, or even hair like other animals. Since it does not have that protective covering, an amphibian's skin can easily dry out.
Second – Since their skin is exposed, they can breathe or exchange gas (oxygen) through their skin (they can still breathe through their lungs too).
Third – To keep the skin moist, amphibians prefer moist, humid, and wet homes or habitats. They will also secrete mucus through their skin to help protect the skin and keep it moist.