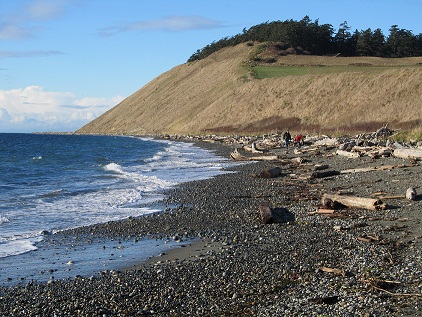 Welcome to Ebey's Landing National Historical Reserve
"Come look from this eminence of bluff, now in the soft hour before daybreak...the island's farm fields are leather and corduroy, rich even panels between black-furred stands of forest. Tan grass...whisks soundlessly against a four-wire fence line. Yes; rural America of the last century..."
Ivan Doig, Winter Brothers, 1980
Ebey's Landing National Historical Reserve is a unique place where history and natural resources come together to create a landscape of unparalleled beauty and richness. The Reserve's scenery is magnificent - dramtic bluffs rise from the waters of Penn Cove and the Strait of Juan de Fuca to dense forests and pastoral prairies while lakes and lagoons mark the rocky shores. But Central Whidbey is more than just a pretty place - it is a working landscape that reflects man's relationship with the land over a period of thousands of years. The result is a cultural landscape - a place that reflects the history of human interaction with the land, which tells the story of the people who have lived here - the Native People who first used the prairies and forests and the 19th century settlers whose houses, stores and farms are still being used today. Come for a visit and explore the Reserve!
Local Partners & Information Resources