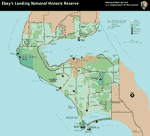 Making your way to the Reserve is as simple as riding a ferry boat! With over 17,500 acres (85 percent of which is privately owned), the Reserve offers the outdoor enthusiast a multitude of experiences - Kayaking, Sailing, Hiking, Biking, Birdwatching, among the few. If you prefer an indoor adventure, then visit the town of Coupeville, where you'll find quaint shops, great restaurants, and the Island County Historical Society Museum.
Overview Map of Ebey's Landing National Historical Reserve.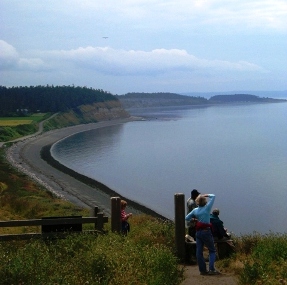 Planning a hike? Then you'll want a copy of the Trails Map of Ebey's Landing NHR! This handy map shows where the trails are, and what is public vs. private land. You can pick up a copy of the full Trails Map Brochure at the Office of the Trust Board on Cemetery Rd., at the Coupeville Chamber of Commerce or at the Island County Historical Museum in downtown Coupeville here.
Overview of the Trails Map for Ebey's Reserve