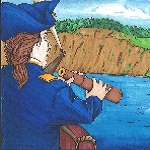 DISCOVER EBEY'S! Become an Ebey's Landing National Historical Reserve Junior Ranger!
Our Junior Rangers will learn about the Reserve - the history and the agriculture that make the Reserve a very special place! When you complete the Junior Ranger book, you'll receive the official Ebey's Landing NHR Junior Ranger Badge, as well as a patch for your collection!
To get your Discover Ebey's Jr Ranger Book, click on the picture of Captain George Vancouver looking at Ebey's Bluff and print it off. Or, if you're visiting the Reserve, you can pick up a copy at the Cottage at Sunnyside (Trust Board Office - 162 Cemetery Rd., Coupeville), or at the Island County Historical Society or the Coupeville Chamber of Commerce.