Split Mountain Campground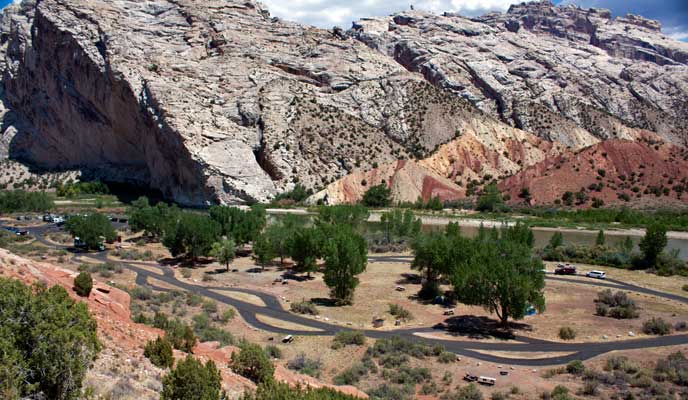 NPS / Dan Johnson
The Split Mountain Group Campground is located along the banks of the Green River at and elevation of 4800 feet. The highly eroded Split Mountain towers over the campground. The campground is near the famous dinosaur quarry, where you can see 149 million year old dinosaur bones still encased in the rock. Right beside the campground is the Split Mountain Boat Ramp where river rafters come off the Green River after trips through Dinosaur National Monument's canyons.
Sites
Four group sites that accommodate both tents and recreational vehicles
Minimum groups size of 8 people, Maximum group size of 25 people per site and up to six vehicles
No water, sewer or electric hookups
Fees
$25.00 per site, per night
Fees are charged only when water is available (early April to early October)
Season
Open all year
Campground is for groups when the Green River Campground is open, Open to everyone when Green River is closed
Water and flush toilets available from mid April through early October
Reservations
Reservations are available through Recreation.gov for peak season - April 17 through September 27, 2015. Reservations can be made up to 12 months in advance.
Open as first come, first served during non-peak season
Facilities and Services
Water and flush toilets available mid April to early October
Vault toilets available during fall, winter and spring
Picnic tables
Campfire ring with grill
Hiking trails
River boat launch (non motorized only, permits required)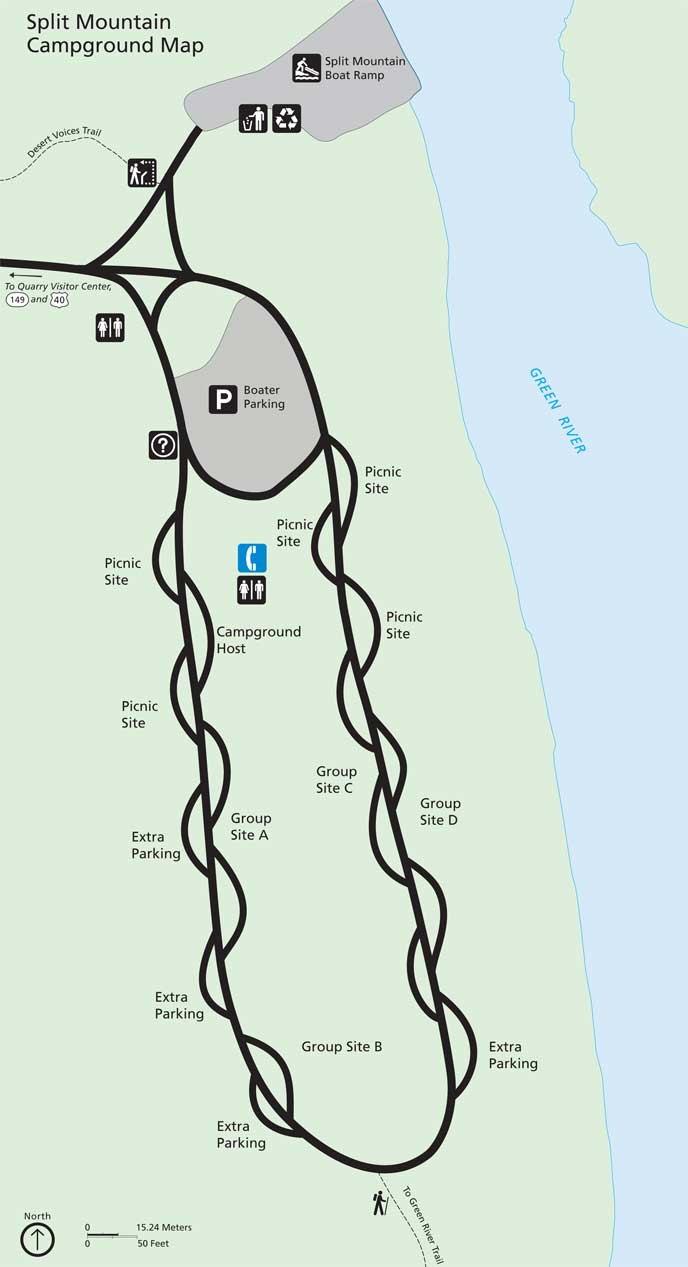 Campground Regulations
Each group site is limited to 25 people and 6 vehicles. Extra parking is available in the parking lot.
Proper storage of food and trash is required. Dinosaur is black bear country! See our Camping in Bear Country page for more information.
All vehicles and trailers must stay on the pavement or on designated parking pads.
Digging, leveling and other site modifications are prohibited.
Campfires must be built inside the fire grate provided. Never leave a campfire unattended.
Collecting wood from the ground or breaking it off trees or shrubs is prohibited. Firewood is available for $5.00 per near the pay station.
Washing dishes/clothing at public water outlets is prohibited. Water must be carried to campsites for washing dishes. Wastewater must then be poured into restroom toilets. The discharging of wastewater on the ground is prohibited.
Bathing is allowed at restroom sink or at your campsite only.
State firearm laws apply. All other weapons are prohibited (this also includes slingshots, paintball guns, BB guns and bows).
Do not feed or harass wildlife.
Generators may be operated between 7:00 AM - 9:00 PM.
Quiet hours are from 10:00 PM - 6:00 AM.
Stays are limited to 14 consecutive days
PETS:
♦ Must be on a 6 foot maximum leash or physically restrained at all times
♦ May not be left unattended and tied to an object
♦ Are allowed in your campsite, on roads and in parking lots
♦ Are not permitted on hiking trails, along the river or in the backcountry