Portion of Echo Park Closed Due to Mountain Lion Activity

The closed area includes the group campsite (other campsites remain open), river access area, the adjacent restroom, water spigot and the path following the Green River upstream to its confluence with the Yampa River. A fresh animal kill is in the area.
Auto Touring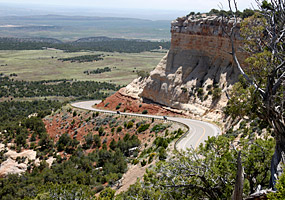 Even though much of Dinosaur National Monument is managed as wilderness, a network of roads penetrate the monument's rugged interior. These scenic drives provide access to dramatic views, a chance to see wildlife, or the ability to deeper explore the area by hiking one of the monument's trails. Some of the roads are paved two-lane highways – fine for any passenger car – while others are dirt roads requiring the use of a 4-wheel drive, high clearance vehicle. Some monument roads close for the winter. Always check the weather before heading out on any of the monument's dirt roads. Due to the clay soils, some roads may be impassible when wet.
Did You Know?

Whitewater rafting is a popular way to experience the remote canyon areas at Dinosaur National Monument. You can take a licensed commercial rafting trip or you can tackle the river on your own, provided you have a permit, the correct equipment and the necessary experience.