Portion of Echo Park Closed Due to Mountain Lion Activity

The closed area includes the group campsite (other campsites remain open), river access area, the adjacent restroom, water spigot and the path following the Green River upstream to its confluence with the Yampa River. A fresh animal kill is in the area.
Rainbow Park Campground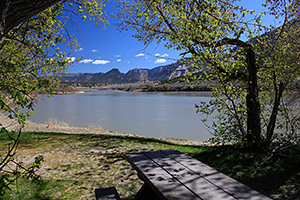 NPS
Rainbow Park Campground is 28 miles from the Quarry Visitor Center in the Utah portion of the monument. It is located on a dirt road that is impassable when wet. The campground is located on the Green River near the boat ramp at the head of Split Mountain Canyon.
Rainbow Park Campground has four shady sites with limited facilities. There is no running water. It has a vault toilet. There are tables and campfire rings. Suitable for tent camping only. No fee.
Rainbow Park Campground is open year-round, but there is no winter maintenance on the dirt road.


Did You Know?

Mormon crickets are wingless grasshoppers that swarm across roads through the summer in the western United States. These flightless insects can form such large swarms that the road appears to move and change colors where they cross.