Deerlodge Park Campground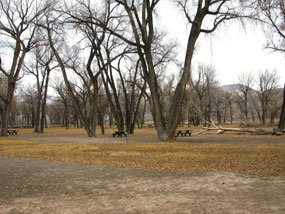 NPS Photo
• 7 sites
• $8.00 per night, per site when water is available (late May to July) Update: July 24, 2014 - water is now off for year.
• Open all year (Water is only available during main boating season for the Yampa River)
• No reservations

Deerlodge Park Campground is located 53 miles east of the Canyon Visitor Center. It is located on the Yampa River at the boat ramp at the head of Yampa Canyon.
It has seven shady sites suitable for tents. The sites have tables and firepits. There is running water and vault toilets, but no showers. The water is turned off from October to mid-April, and there is no camping fee when the water is turned off.
Deerlodge Campground is open year-round, but winter access can be very difficult due to snow. When the Yampa River exceeds 18,000 cfs, the campground will flood. This is typically during the late spring runoff.



Did You Know?

Dinosaurs became extinct 65 million years ago, but lizards are still a common sight at Dinosaur National Monument. The small, inquisitive reptiles have endured on Earth for more than 300 million years, far outlasting their giant cousins.