Portion of Echo Park Closed Due to Mountain Lion Activity

The closed area includes the group campsite (other campsites remain open), river access area, the adjacent restroom, water spigot and the path following the Green River upstream to its confluence with the Yampa River. A fresh animal kill is in the area.
Deerlodge Park Campground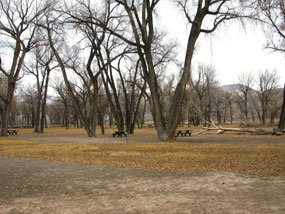 NPS Photo
• 7 sites
• $8.00 per night, per site when water is available (late May to September)
• Open all year (Water not available in the Fall, Winter, and Spring)
• No reservations

Deerlodge Park Campground is located 53 miles east of the Canyon Visitor Center. It is located on the Yampa River at the boat ramp at the head of Yampa Canyon.
It has seven shady sites suitable for tents. The sites have tables and firepits. There is running water and vault toilets, but no showers. The water is turned off from October to mid-April, and there is no camping fee when the water is turned off.
Deerlodge Campground is open year-round, but winter access can be very difficult due to snow. When the Yampa River exceeds 18,000 cfs, the campground will flood. This is typically during the late spring runoff.



Did You Know?

Do you know the difference between a petroglyph (pictured here) and a pictograph? Petroglyphs are images pecked into rock while pictographs are painted images. Dinosaur National Monument preserves both forms of Native American rock art.