Harpers Corner Road Closed for Winter

The Harpers Corner Road is closed for the winter at Plug Hat Picnic Area which is approximately five miles from US Highway 40. More »
Ely Creek Backcountry Campsites Closed

The Ely Creek backcountry campsites located along the Jones Hole Trail have been closed until further notice due to bear activity in the area. More »
Deerlodge Park Campground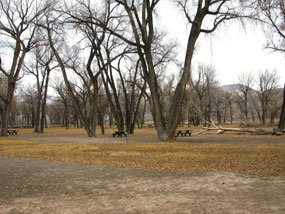 NPS Photo
• 7 sites
• $8.00 per night, per site when water is available (late May to September) Water is now off for the winter. No Fees charged.
• Open all year (Water not available in the Fall, Winter, and Spring)
• No reservations

Deerlodge Park Campground is located 53 miles east of the Canyon Visitor Center. It is located on the Yampa River at the boat ramp at the head of Yampa Canyon.
It has seven shady sites suitable for tents. The sites have tables and firepits. There is running water and vault toilets, but no showers. The water is turned off from October to mid-April, and there is no camping fee when the water is turned off.
Deerlodge Campground is open year-round, but winter access can be very difficult due to snow. When the Yampa River exceeds 18,000 cfs, the campground will flood. This is typically during the late spring runoff.



Did You Know?

Dinosaurs were a remarkably successful group of animals. They lived on the Earth for 160 million years. The fossils at Dinosaur National Monument represent only 10 of the many dinosaur species that existed during that long era.