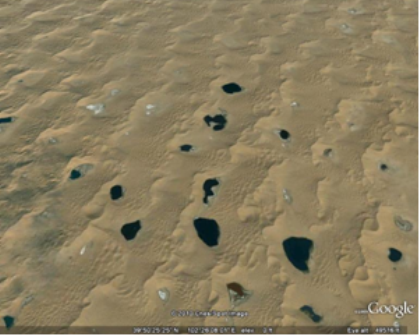 National Park Service
Q. Where did the animals and plants that lived in this desert get their water?
A. In addition to dune deposits, the Glen Canyon also contains thin, horizontal layers of rock interspersed between the cross-bedded layers. These rocks were deposited in wetter areas between the dunes, which allowed animals and plants to survive, even in the middle of a desert. That doesn't necessarily mean lakes; even a dry-looking spot with water a couple inches below the surface could support plants, as well as animals who knew to dig for it. But there was probably a little standing water as well. It might be strange to picture open water in the middle of a desert, but there is actually a place on Earth right now that might be similar to the environment represented in the Glen Canyon: the Badain Jaran desert in Inner Mongolia. Its dunes are 500 meters high, and in some areas there are small lakes between the dunes. You can check it out on Google Earth: the coordinates of this picture are 39°50'N, 102°30'E.