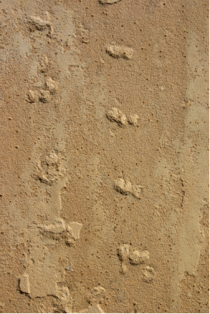 National Park Service
Nearby there is a trail made by what must have been quite a large scorpion. When scorpions walk, all four legs on one side hit the ground at about the same place, making their tracks look like they were made by something with toes. The leg spread on this trackway is about four inches (10 cm). The paleontologists thought they might be able to figure out how big the scorpion was from the leg spread, but the little data that there is doesn't show a correlation between leg spread and body size.
Dinosaur National Monument was created to protect resources just such as this trackway site. As you can see from the top photo above, these tracks are located on a very steep slope. It is difficult to move around on and difficult to take pictures. It presents special challenges to paleontologists: the slab is too big and too fragile to be collected. It has already been damaged by erosion. The usual procedure is to make a mold of the surface with putty or liquid latex, but this surface is too big and steep for that to be feasible. Other methods, such as laser imaging, are being explored, but for now, it's a good thing Dinosaur National Monument is here to protect it.