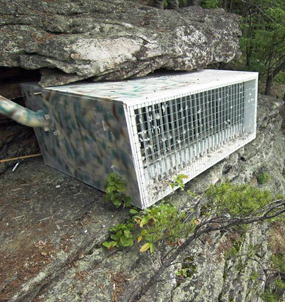 NPA
Hacking at Dinosaur NM
Throughout the 1980s, captive-bred peregrine falcons were also released at Dinosaur NM in a process called hacking. According to Matt Varner, wildlife biologist at New River Gorge National River, which has an active hacking program,"hacking is the process of placing young falcons in a structure and caring for the birds in a manner that minimizes human exposure until they are mature enough to fly."
Hacking takes place over several weeks. Initially, young peregrines are placed in specially equipped boxes on a cliff ledge and, to minimize their exposure to humans, are fed through a chute. When the birds are old enough and strong enough, the box is opened. As the young peregrines learn to hunt, the human-provided food is reduced. Eventually, the peregrine falcons become fully independent.
At Dinosaur NM, hack sites were operated at Deerlodge Park in the early 1980s and Split Mountain in the later part of the decade. A hack site was also established in Harding Hole, but never used.