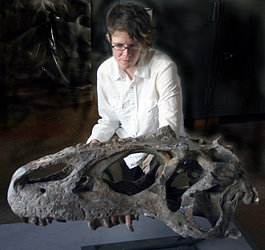 Why is Allosaurus fragilis a superstar?
The Allosaurus fragilis skeleton found at Dinosaur National Monument has one of the best skulls of any Late Jurassic predatory dinosaur in the world! Dinosaur skulls are rarely preserved because they are made of very thin bone that is easily crushed. Skulls are mostly hollow to hold soft tissues that cannot be preserved. Fine sediments compress the skull to flatten it the way you might step on an empty tin can. These skulls may be preserved, but some of the three-dimensional structure is lost. The sand-sized sediments in the Carnegie Quarry are fine enough to preserve bone in great detail but coarse enough to resist compression of the skulls.
This specimen of Allosaurus fragilis has attracted the attention of paleontologists around the world and has been referenced in many scientific studies. You don't, however, have to be a scientist to marvel at this beautiful specimen. The real skull is on display at the Quarry Exhibit Hall.