It seems like kids of all ages are interested in Dinosaurs and Dinosaur National Monument is a great place to get up close and personal with the fossils of this giant creatures. You can see bones from and learn about Allosaurus, Stegosaurus, Diplodicus and Apatosaurus - just to name a few.
Beyond the dinosaurs, there is much more to do in the monument. You can see carvings in the rocks, called petroglyphs, left by the Fremont people nearly 1,000 years ago. You can also take a short hike, go camping, try you luck at fishing or watch wildlife. The monument also has a Junior Ranger program where you can explore the monument while doing some fun activities. Ask a ranger at a park visitor center for more information.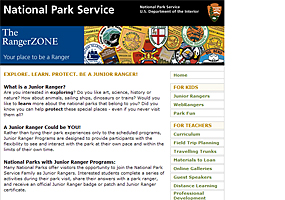 Heading out to visit your National Parks? Check out which sites have a Junior Ranger program and find out more information about the National Park Service Junior Ranger Program at the RangerZone—your place to be a Junior Ranger.
more...