Plan Your Visit
Winter is Here
Hello Friends!! We are excited to see some snow this year. The monument remains open 24 hours a day, and normally 365 days per year. This is subject to change due to inclement weather which may cause... delays opening the roads or even complete closure because of the most severe weather. The current schedule for the Visitor Center and the Natural History Association Book Store located at the top of the hill and at the base of the tower will be open daily, 9:00 AM to 4:00 PM daily. This may also be subject to change, so please continue to follow us for updates concerning any time changes and/or closures.
A reminder that the trails are also open through the winter, but they are not maintained. Ice and snow are possible on the trails through the winter season. Please use caution when out exploring the Monument.
We also ask that you help to preserve the primitive nature of the area by following Park regulations. Please remember to avoid smoking in non-designated areas and do not litter. Also remember that pets are not permitted on the trails, but may be walked in the parking areas as long as they are on leash.
The winter is a great time to come out for a visit. Snow has covered the ground making photography supreme and animal observation and tracking extremely enjoyable.
Deer and turkey are both abundant this year. The eagles have migrated in for the winter and we have seen quite a few. Also watch for fox and an occasional bobcat. Providing that we receive enough snow, cross country skiing and snow shooing are both popular winter activities here at the tower.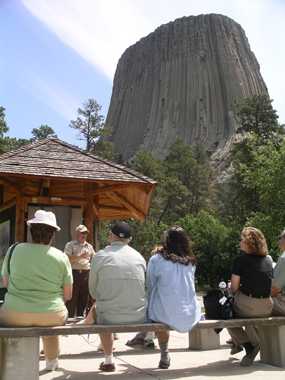 For the most current updates, including weather and road conditions, follow us on Facebook.
President Theodore Roosevelt established Devils Tower National Monument on September 24, 1906. The spectacular rock formation known as Devils Tower and the surrounding countryside, home to a myriad of plant and animal life, attract visitors from around the world. Climbers test their skills on vertical rock walls. Visitors delight in the beauty of the area and enjoy the activites offered at the monument. American Indians consider the area sacred, a place for prayer and renewal.
Follow us now on Twitter http://twitter.com/ user name TowerRanger
Devils Tower also has a Facebook page, Devils-Tower-National-Monument-Official-NPS-Page


Did You Know?
Over 20 tribes have a cultural affiliation with Devils Tower.  Many tribes have stories about how the Tower was created.  Most of the stories talk about a bear using its claws to score the Tower's sides.