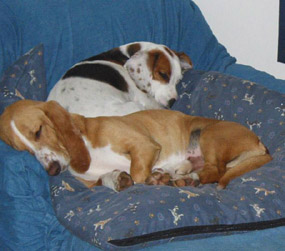 Pet Regulations:
Pets are not allowed on the trails at Devils Tower National Monument.
Pets may not be left unattended. Extreme temperatures in vehicles may cause suffering and death to pets. Animals may not be left tied to objects since pets may make unreasonable noise and may present a danger to other visitors.
Leashed pets may be exercised in the parking areas, along the roadways and in the picnic area. Pets are also permitted in the campground if they are leashed and not left unattended.
The Crook County Veterinary Service (307-283-2115) in Sundance will board dogs for the day. Boarding facilities are also available in Gillette, WY, and Spearfish, SD.
Service Animals
The Department of Justice published revised final regulations implementing the Americans with Disabilities Act (ADA) for title II (State and local government services) and title III (public accommodations and commercial facilities) on September 15, 2010, in the Federal Register. These requirements, or rules, clarify and refine issues that have arisen over the past 20 years and contain new, and updated, requirements, including the 2010 Standards for Accessible Design (2010 Standards). This document can be found here, Svc Animal Policy DOJ 7 11, (174 KB PDF)
We recognize the passion many pet owners have with their pets on family adventures. We also understand the concerns that many pet owners express on the availability of pet-friendly areas within park boundaries. There are many reasons that the National Parks have restrictions on pets. Concerns at Devils Tower include the safety of park visitors, the safety of pets from environmental hazards (i.e. porcupines, mothers protecting young, and insects), and the protection of the resources. Some pets are considered predators to park animals and cause stress to park wildlife.