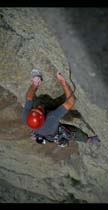 ALL CLIMBING ROUTES ARE OPEN
Some routes are annually closed in order to protect nesting Falcons. Routes are frequently closed between March and July. Currently, all routes are open. During this time nesting activity is monitored by park staff. Routes will be reopened when no nesting activity is observed. Climbing near raptor nests stresses the birds and often leads to chick death. Defensive raptor behavior is also potentially dangerous for climbers. Please check for route closures when you register to climb. Rangers strictly enforce these closures.
CLIMBING
Hundreds of parallel cracks divide Devils Tower into large hexagonal columns, making it one of the finest traditional crack climbing areas in North America. The longest of these continuous cracks are almost 400 feet long and vary significantly in width. Technical difficulties range from 5.7 to 5.13, although many climbers consider the older traditional "trade" routes such as the Durrance and Wiessner harder than the original ratings imply. Most of the routes at Devils Tower are not bolt protected and therefore require an appropriate selection of stoppers and camming devices in order to safely protect them. The few bolted face climbs that exist were established during the 1980's and early 1990's and the condition of some of the bolts reflect that era.
A climbing management plan for Devils Tower National Monument was released in February 1995. This plan provided direction for managing climbing activity at Devils Tower in order to protect the natural and cultural resources present. A
Climbing Management Plan Update
was completed in 2006. Primary features of the CMP Update are an improved climber education program, safety standards, and climbing access routes. The CMP update also provides for a continued June voluntary climbing closure. As required by the National Environmental Policy Act, a review of the impacts caused by the CMP Update was performed by monument staff. This project is generally consistent with the environmental assessment prepared for the 1995 CMP, and for the new actions, impact levels are low.
Regulations are essential in order to protect the natural climbing environment, the heritage and culture of the American Indians, climbers and the general public. Therefore, we ask all climbers to act responsibly and observe park regulations. The 1995-Climbing Management Plan can be viewed in its entirety here, -note:this is a large PDF file and may take several minutes to load.
CLIMBER REGISTRATION
All persons planning to climb or scramble above the boulder field are required to register before, and immediately after climbing each day. Registration is used for climber safety and also becomes part of a historical database that has been maintained since 1937. Registration also provides documentation of the Tower as a climbing resource. It is in YOUR best interest to register. Registration is free.
From April through October, climbers may register at the climber registration office located next to the visitor center at the base of the Tower. The climber registration office offers information on weather forecasts, approach and descent routes, current hazards, falcon closure updates, specific route information, the June voluntary climbing closure, climbing history, and other climbing areas. The office is open 7 days a week in an attempt to better serve the climbing community. When the registration office is not staffed by climbing rangers, self registration is available at the kiosk in the center of the main parking lot.
During peak visitation, May through September, climbers are asked to park their vehicles in the lower gravel parking lot. This lot is reached by taking an immediate right at the stop sign located at the entrance to the main visitor center parking lot.
During winter months, climbers register at the self-registration kiosk located in the center of the parking lot at the base of the Tower. Staff is available in the administration building during regular business hours for questions and assistance.
JUNE VOLUNTARY CLIMBING CLOSURE
American Indians have regarded the Tower as a sacred site long before climbers found their way to the area. Recently, American Indian people have expressed concerns over recreational climbing at Devils Tower. Some perceive climbing on the Tower as a desecration to their sacred site. It appears to many American Indians that climbers and hikers do not respect their culture by the very act of climbing on or near the Tower.
A key element of the Climbing Management Plan is the June Voluntary Climbing Closure. The National Park Service has decided to advocate this closure in order to promote understanding and encourage respect for the culture of American Indian tribes who are closely affiliated with the Tower as a sacred site. June is a culturally significant time when many (not all) ceremonies traditionally occur. Although voluntary, this closure has been very successful - resulting in an 80% reduction in the number of climbers during June.
During June, the NPS asks climbers to voluntarily refrain from climbing on the Tower and hikers to voluntarily refrain from scrambling within the inside of the Tower Trail Loop. Please strongly consider the closure when planning a climbing trip to Devils Tower. Alternative climbing areas are located within 100 miles of Devils Tower National Monument. The Access Fund fully supports the voluntary closure and the Climbing Management Plan at Devils Tower.

REGULATIONS
Register before your climb and check in immediately upon your return.
Observe any posted route closures. Contact the monument for specific closure areas.
Camping is only allowed in the designated campground. Camping and bivouacking are not permitted on the Tower.

Leashed pets are ONLY allowed in developed areas including the campground, picnic area, roadways, and parking lots. Pets are not allowed on (or off) trails. Leaving pets tied-up unattended is also prohibited. Pets should be safely confined inside a vehicle or left in the care of a trusted person. If possible, leave your pet at home (temperatures inside vehicles often exceed 100 F during May-September.)

Pull your ropes. Leaving unattended ropes or gear on the Tower is not permitted.

Leave the rock as you found it. Chipping holds, gluing holds, gardening, and excessive route cleaning are prohibited.
Power drills are prohibited.

Do not install new bolts or fixed pitons. Existing anchors may be replaced with a permit. Permit for Fixed Anchor replacement

A WORD OF CAUTION
Routes: Routes are typically long and sustained in grade. Carry lots of gear (climbers typically use a double or triple rack on many routes). Two ropes are generally needed for rappels.
Rescue: There is no professional rescue-team at Devils Tower National Monument. Make plans for self-rescue or get assistance from other climbers should an unexpected incident arise. Clearly and loudly call out for help. If a phone is available call 911. Available park staff will provide assistance to the limit of their abilities; however help may not arrive on-scene for several hours.
Injury: The closest medical facility which can treat significant trauma is 60 miles from Devils Tower National Monument.
Weather: Obtain forecast information before beginning your climb and observe changing weather conditions. Thunderstorms can develop quickly bringing lightening, hail, rain, slippery rock surfaces, and hypothermia. Summer days can bring very hot temperatures.
Rappelling: The National Park Service does not maintain anchors. Inspect all anchors and back them up if you feel they are not adequate. The majority of serious accidents and climbing deaths on the Tower have occurred during rappelling. Make sure that you know exactly where your rappel route is before you begin. Understand and double-check your rappel system before each rappel. Start your rappels over the nose of the columns and take care to prevent ropes from jamming in cracks when pulled. Avoid knocking off loose rock onto climbers below.
Other Hazards: Climbing helmets are strongly recommended due to frequent rock falls. Significant hazards should be reported to a ranger so that future climbers can be warned of the situation. Watch for snakes, spiny plants, poison ivy, falcon attacks, wasps, and falling rocks while climbing on the Tower.
ESTABLISHING NEW ROUTES
After completing new routes, climbers are asked to fill out a form available at the Visitor Center. New route descriptions are made available to all interested climbers. Please remember that the installation of new bolts and fixed pitons is not permitted. This premise must dictate the style of your ascent.
PROTECT THE TOWER
The top of the Tower is a fragile environment and is easily damaged. Minimize your impact by stepping on rocks rather than on plants or soil. Approach trails to climbing routes have been established to minimize impacts to wildlife, plants and soil at the base of the Tower. Check at the Visitor Center for approach and route information. Stay on trails. Please pack out all litter. Practice "Leave No Trace" ethics. Solid human waste should be packed out. Supplies are available at a minimal charge at the Visitor Center.
COMMERCIAL GUIDE SERVICES
Several climbing guide companies hold commercial use permits for Devils Tower. Contact Devils Tower National Monument for a current list of guides with permits. When using a commercial guide service make certain that the guide has a valid permit for guiding climbs at Devils Tower. 2015 Commercial Guides