At the Foot of Denali
Wonder Lake Campground is at mile 85 on the Denali Park Road. It offers 28 sites, which are all tent-only. It is open June 8 - mid-September each year.
It is the closest campground to Denali. Though separated by nearly 26 miles, the sheer size of the mountain makes it loom impressively over Wonder Lake Campground. Cloudy skies can obscure views, and mosquitoes can be fierce, but Wonder Lake on a clear day offers views that will last a lifetime.
Wonder Lake is accessible by
camper bus
.
You may
make reservations online
, through a third-party reservation system. Reservations are possible as early as December 1 of the summer before you wish to visit (e.g., Dec 1, 2015 for a 2016 visit).
What to Expect at Wonder Lake
There is no electricity, but potable water is available in the campground.
Campers must use the food storage facilities in the campground for all food and scented items (e.g., toothpaste).
Fires are not permitted at Wonder Lake.
Wonder Lake is in a very wet part of the park, and mosquitoes plague the area for much of the summer. A head-net is very useful. A one mile trail leads from the campground to the McKinley River. Hiking off-trail in the area is permitted, though it can be boggy.
Waterfowl can often be seen, either on Wonder Lake or the many ponds and small lakes in the area. Beavers, or evidence of them, can be found as well. Larger animals, like moose and grizzly bears, occasionally pass through the area.
Download a
map of the Wonder Lake and Kantishna area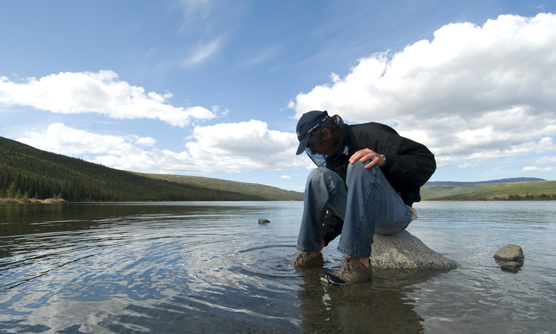 nps photo / kent miller
Campground Regulations
Necessities
- Toilets are near the campground entrance. Potable water is available at the campground. No fires are permitted at Wonder Lake.
Be courteous
- Quiet hours are between 10 pm and 6 am.
Wildlife & food storage
- Keep all food and scented items (e.g., toothpaste, sunscreen, ice chests/coolers, etc.) in the food storage building. Label and date your items. Keep a clean camp and wash your dishes immediately. Learn more about
wildlife safety
.
Fire
- Fires are not permitted in Wonder Lake Campground. You must use a camping stove to cook meals.
Pets
- Pets are not permitted on camper buses. Learn more about
bringing your pet to Denali
.
Fishing
- Fishing is permitted, and Wonder Lake sometimes yields trout and grayling. Learn more about
fishing in Denali
.