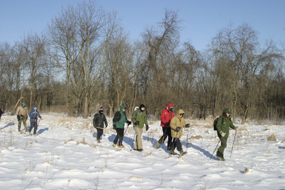 ©SARA GUREN
Hiking
Over 125 miles of trails are open for hiking year round.Though many trails are especially scenic in winter, the Ledges Trail, 405 Kendall Park Road, Peninsula 44264, is among the most popular due to the dramatic icicles on the rocks. In winter it is especially important to take some precautions while hiking. Obtain trail maps before venturing into unfamiliar areas. Inform family or friends of your intended locations and estimated time of return. Do not climb on the rocks at the Ledges, and stay back from the bluff edges. Always use caution where ice and packed snow make footing hazardous. As a courtesy and for the safety of everyone, always yield to skiers and avoid walking in ski tracks.
Snowshoeing
Snowshoe rental is available at the Winter Sports Center and Boston Store Visitor Center, 1550 Boston Mills, Road, Peninsula 44264, when snow depth is four inches or greater. The visitor center is open daily, 10 a.m. - 4 p.m., but closed December 25 and January 1. There is a $5 rental fee and a valid driver's license or credit card is required as a deposit.

Snowshoeing is recommended for nearly all the park trails with exception of the Ledges and Brandywine Falls trail system. Something to note, is that the most challenging trails in the park often have stairs and drainage steps. When sharing a trail with cross-country ski traffic, yield to skiers and take care not to walk in ski tracks.
Cross-Country Skiing
Cross-country ski rental, including a limited number of children's skis, is available at the Winter Sports Center for $15 per day or $7.50 for three hours, when snow depth is six inches or greater. A valid driver's license or credit card is required as a deposit. Ski instruction is available by advanced registration at (330) 657-2752.
Suggested areas and trails for cross-country skiing and snowshoeing include:
Ice Fishing
Large-mouth bass, crappie, and bluegill are among the fish caught in CVNP lakes and ponds. Ice thickness is not monitored for ice fishing, so be extra careful when venturing onto the ice. Thin spots can occur on the ice, causing it to become unstable. Ice fish at your own risk. .
Sledding
Sledding is available at Kendall Hills on Quick Road, about one mile east of Akron Peninsula Road. Parking is located at Pine Hollow (5465 Quick Road, Peninsula 44264), Crow Foot Gully Picnic Area (5365 Quick Road, Peninsula 44264), and Little Meadow (5249 Quick Road, Peninsula 44264) parking lots. Separate areas are designated for sleds and toboggans. Some areas are closed to sledding to prevent conflicts with cross-country ski trails.
Downhill Skiing and Snow Tubing
Brandywine Ski Resort, 1146 West Highland Road, Sagamore Hills 44067, and Boston Mills Ski Resort, 7100 Riverview Road, Peninsula 44264, offer downhill skiing. Equipment rental and instruction are available. Polar Blast Tubing Park, next to Brandywine Ski Resort, offers snow tubing Friday through Sunday for those who want to enjoy the slopes without skiing or snowboarding!
For more information call (800) 875- 4241 or visit the web site.

Download our Wintertime Fun site bulletin.