Temporary Bridge Installed at Brandywine Creek

A temporary bridge has been installed over Brandywine Creek and visitors will be able to complete the Brandywine Gorge Trail, during good weather. The bridge may be flooded and impassable during heavy rains. Caution signs are in place. More »
Trail Closures

Towpath Trail is closed from Mustill Store to Memorial Parkway for riverbank reinforcement. Detours posted. Closure will last 1 - 4 weeks into August. Valley Bridle Trail south of SR 303, across from golf course, is collapsed by river. Hard closure.
Road Closures

Quick Rd is closed from Akron Peninsula Rd to Pine Hollow Trailhead in Peninsula, from Wednesday, 7/16, for 6 weeks. Detours posted. Hines Hill Rd is closed from Tuesday, 7/29 through Tuesday, 8/12 for resurfacing from I271 to the Boston Township Line. More »
Riverview Road Repaving and Closure

Riverview Rd is being repaved from the Cuyahoga-Summit Cty line to Peninsula through Mon, 9/15.Road is open with single lane closures. Riverview Rd is closed from Boston Mills Rd to the Cuyahoga Cty line starting Mon, 7/14 for for 3 weeks. Detours posted. More »
Ohio and Erie Canal Towpath Trail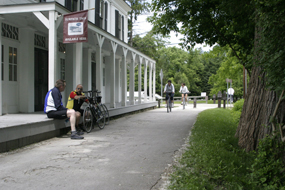 © SARA GUREN
---
Welcome to the Ohio & Erie Towpath Trail! This multi-purpose trail was developed by the National Park Service and is the major trail through Cuyahoga Valley National Park. From it you can make connections to many of the natural and historic sites in the park and to other trails that intersect it along the way.
---
History of the Ohio & Erie Towpath Trail
The Towpath Trail follows the historic route of the Ohio & Erie Canal. Before the canal was built, Ohio was a sparsely settled wilderness where travel was difficult and getting crops to market was nearly impossible. The canal, built between 1825 and 1832, provided a successful transportation route from Cleveland, on Lake Erie, to Portsmouth, on the Ohio River. The canal opened up Ohio to the rest of the settled eastern United States. Download a copy of our Ohio & Erie Canal site bulletin.
The Towpath Trail Today
Today you can walk or ride along the same path that the mules used to tow the canal boats loaded with goods and passengers. You can still see remnants of that former scene as you pass many of the canal locks and related structures. From the vantage point of the Towpath Trail you can also enjoy the beauty of forests, fields, and wetlands flanking the path as it winds its way through the Cuyahoga River Valley.
A visit to Canal Exploration Center, Boston Store Visitor Center, Peninsula Depot Visitor Center, or Hunt house can make your outing on the Ohio & Erie Canal Towpath Trail even more enjoyable. At these stops you can talk to a park ranger, see exhibits, and get information.
The Towpath Trail is open 24 hours, giving you the chance to explore after dark. Within the national park, the trail is level and hard-packed for people using wheelchairs, bicycles, or strollers. The National Park Service does not plow the trail in the winter to permit cross-country skiing.
Please note: If you planning a multi-day Towpath Trail ride, please contact our Communications Center at 440-546-5945 to inform staff where you parked your vehicle. This will ensure our law enforcement rangers do not tag your vehicle as "abandoned".
To check for potential towpath trail closures, click here.
From April through October, you can bicycle one way and return by train for $3 using Cuyahoga Valley Scenic Railroad's Bike Aboard! service. Runners and hikers pay $9. You can catch the train at any boarding station. There are no guaranteed seats. Schedules are available at boarding stations, visitor centers, and online at www.CVSR.com.
Download the Towpath Trail Map within CVNP boundaries. You may also acquire a printed copy of the Towpath Trail map by visiting one of our visitor centers, or by contacting us. Download the Towpath Trail Map from Cleveland to Zoar. The trail extends beyond the park into the Ohio & Erie Canalway.
Safety on the Towpath Trail
The Towpath Trail is a shared recreational trail. This means it is open to walkers, joggers, and bicyclists, and in some sections, horse riders. To ensure an enjoyable trail experience for all users, please observe some basic trail courtesy.
Travel at a safe speed and keep to the right except to pass others.
Bicyclists yield to ALL users.
Don't risk a head injury. Always wear a helmet when cycling.
EVERYONE yields to horses. Horses can be startled by sudden movements, so use caution. Make sure the rider knows in advance that you are passing.
Give a clear warning before passing on the left.
Travel single file when passing and being passed.
Pets must be kept on a leash; please use a short leash and keep pets on the right side of the trail.
Please avoid walking in cross country ski tracks.
Move off the trail when stopped.
The Towpath Trail in All Seasons
The photo album below shows images of the Towpath Trail through the national park. Click on individual photos for each photographer's name and click here for copyright restrictions if you want to download photos.
Learn More About the Ohio & Erie Canalway
The Ohio & Erie Canalway celebrates the 19th-century Ohio & Erie Canal and its legacy, as well as offers a place to experience trails, trains, scenic byways, canal towns, and more.
The Ohio Canal Corridor is a public interest group working on the formation of the Ohio and Erie Canal Corridor as a National Heritage Corridor, an affiliated unit of the National Park System.
Did You Know?

Cuyahoga Valley National Park's namesake river flows north and south. The Cuyahoga River begins its 100 mile journey in Geauga County, flows south to Cuyahoga Falls where it turns sharply north and flows through CVNP. American Indians referred to the U-shaped river as Cuyahoga or "crooked river."