Rising River Waters Can Kill!

Watch for rapidly rising river levels on the Chattahoochee River and its tributaries. Water released from dams and heavy rain can turn a day on the river into a tragedy! More »
Call for Water Release Schedule

With colder temperatures you can expect longer and more frequent water releases. For water release schedule info, call 1-855-DAM-FLOW (1-855-326-3569) for Buford Dam and 404-329-1455 for Morgan Falls Dam. Save numbers to your cell! More »
Things To Do
The Chattahoochee River is a great place for a picnic, a leisurely walk, or boating on a sunny afternoon. The 48 miles of of the river that the park contains can take up the whole day or just a few hours for a quick getaway from the fast pace of the city life.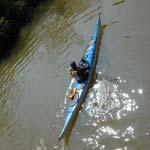 In the Cochran Shoals area, bike riding is permitted (on designated trails) and a mountain bike area is provided for the more daring. Horseback riding enthusiasts can travel to Bowmans Island for a peaceful ride on the trails there.


Did You Know?

While many caterpillars make cocoons to molt into moths and butterflies, some, like the Hickory Horned Devil, bury themselves in the ground over the winter emerging in the Spring fully changed.