Johnson Ferry Intermittent Trail Closures

Representatives of Colonial Pipeline Company will be working on the gas pipeline in the Johnson Ferry North unit. The work will require intermittent trail closures. For your safety please stay on designated trails and obey all trail closures.
Things To Do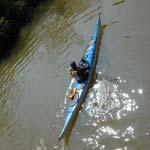 The Chattahoochee River is a great place for a picnic, a leisurely walk, or boating on a sunny afternoon. The 48 miles of of the river that the park contains can take up the whole day or just a few hours for a quick getaway from the fast pace of the city life.


Did You Know?

A U.S. Coast Guard approved Personal Flotation Device (PFD) is required for each person onboard a watercraft. Any child under the age of 13 is required to wear a PFD while the watercraft is underway. A watercraft is defined as any boat, inner tube, air mattress, or any other floating device.