Calendar

Program Cancellation Policy
We hate cancelling a program! Unfortunately sometimes we have no choice. While some programs fill up early and we must turn people away other times too few people are registered. So please register early to reduce program cancellations.
more...
---
Search for Events
Events Upcoming for March
Showing 1 results

 RSS Feed
 Show all instances of recurring events
Sunday, March 29, 2015

Bring your family and friends on a ranger-led walk this spring and discover the park's scenic trails at the west Palisades. You'll learn about the varied natural resources and long cultural history of the Chattahoochee River corridor. More

Time:

10:00 AM to 3:30 PM

Location:

3445 Cobb Parkway SE, Atlanta, GA 30339

Fees:

A current $3 Daily Park Pass, Annual Park Pass, or an America the Beautiful Pass is required!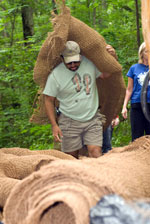 Volunteer
Have you made a habit of visiting the park on a routine basis?
Are you concerned about the health of the park and its resources?
If you can answer yes to any of these questions then join the team, Volunteers In Parks (VIP) team that is, at Chattahoochee River National Recreation Area. As a VIP you can take pride in helping your fellow park visitors while doing what you already enjoy.
Learn more at http://www.nps.gov/chat/supportyourpark/volunteer.htm