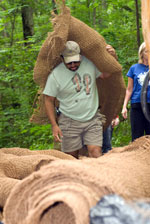 Volunteer
Have you made a habit of visiting the park on a routine basis?
Are you concerned about the health of the park and its resources?
If you can answer yes to any of these questions then join the team, Volunteers In Parks (VIP) team that is, at Chattahoochee River National Recreation Area. As a VIP you can take pride in helping your fellow park visitors while doing what you already enjoy.
Learn more at http://www.nps.gov/chat/supportyourpark/volunteer.htm