Rising River Waters Can Kill!

Watch for rapidly rising river levels on the Chattahoochee River and its tributaries. Water released from dams and heavy rain can turn a day on the river into a tragedy! More »
Call for Water Release Schedule

With colder temperatures you can expect longer and more frequent water releases. For water release schedule info, call 1-855-DAM-FLOW (1-855-326-3569) for Buford Dam and 404-329-1455 for Morgan Falls Dam. Save numbers to your cell! More »
Plan Your Visit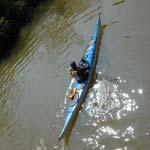 At Chattahoochee River National Recreation Area you can float, fish, or play in 48 miles of river as it flows through the northern suburbs of Atlanta. Use your land legs as you explore one of the 15 land units strung like emeralds along the river. Or just kick back and relax!
These pages provide everything you need to begin your journey of exploration.


For Your Safety - Call For Water Release Schedule

Always be aware of rapidly rising river levels due to dam releases and storms. Read More

Think Before You Sink!

One life jacket per person is required for all watercraft including tubes, air mattresses, etc.!

Instagram

Do you have some great photos taken at Chattahoochee River National Recreation Area that you would like to share? Post your best on our Instagram page. Read More

Seventh Annual Chattahoochee River Summer Splash

Make a big splash at the coolest free event of the summer, the Seventh Annual Chattahoochee River Summer Splash on July 26, 2014. Float in a boat and beat the heat on your journey of discovery down the Chattahoochee River. Read More
Did You Know?

A U.S. Coast Guard approved Personal Flotation Device (PFD) is required for each person onboard a watercraft. Any child under the age of 13 is required to wear a PFD while the watercraft is underway. A watercraft is defined as any boat, inner tube, air mattress, or any other floating device.