Johnson Ferry Intermittent Trail Closures

Representatives of Colonial Pipeline Company will be working on the gas pipeline in the Johnson Ferry North unit. The work will require intermittent trail closures. For your safety please stay on designated trails and obey all trail closures.
Plan Your Visit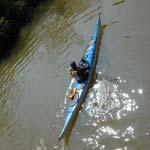 At Chattahoochee River National Recreation Area you can float, fish, or play in 48 miles of river as it flows through the northern suburbs of Atlanta. Use your land legs as you explore one of the 15 land units strung like emeralds along the river. Or just kick back and relax!
These pages provide everything you need to begin your journey of exploration.


For Your Safety - Call For Water Release Schedule

Always be aware of rapidly rising river levels due to dam releases and storms. Read More

Think Before You Sink!

One life jacket per person is required for all watercraft including tubes, air mattresses, etc.!

Instagram

Do you have some great photos taken at Chattahoochee River National Recreation Area that you would like to share? Post your best on our Instagram page. Read More

Seventh Annual Chattahoochee River Summer Splash

Make a big splash at the coolest free event of the summer, the Seventh Annual Chattahoochee River Summer Splash on July 26, 2014. Float in a boat and beat the heat on your journey of discovery down the Chattahoochee River. Read More
Did You Know?

Typically, rivers meander and change course over time. However, the Chattahoochee River is one of the oldest and most stable river channels within the United States, since it's essentially "locked" in place, flowing along the Brevard Fault Zone.